Poseidon Expeditions' field operations PROs
Expedition Staff to Passenger ratio is 1:10
All Expedition staff is certified in CPR & Life-saving skills
All Expedition staff is certified with STCW-95
Expedition Leaders have a record experience of minimum 50 voyages to Antarctica and the Arctic and hold a IAATO certificate of the Field Staff Assessment "Antarctic Peninsula and South Georgia for Expedition Leaders"
All Expedition Staff are certified drivers of small boats / zodiacs
For Arctic Expeditions all staff hold "E.M.C. Eco Marine Corporation Training Certificates" for firearm handling & safety and according equipment for shore landings
All Expedition Staff hold certificates in crowd management & safety training, meeting the requirements of SCTW2010 regulations aboard passenger vessels
For landings and boat tours, Poseidon Expeditions uses the newest Zodiac Mark V MilPro models with 50/60 HP Yamaha 4 stroke engines (plus sufficient spare parts)
Poseidon Expeditions offers a QuietVox in-ear translations system for non-English speakers (e.g. German, Russian, Chinese, Japanese, French, Swedish)
For field and zodiac operations, each of Poseidon Expeditions staff members uses brand new ICOM IC-M73 long range Radios as well as GARMIN or ETrax GPS systems
All vessels used by Poseidon Expeditions are fully SOLAS and ISM certified (including fully closed lifeboats)
Poseidon Expeditions hold all certificates for operating expeditions to the polar regions
Poseidon Expeditions is member of IAATO and AECO
Poseidon Expeditions gives back to nature by supporting organisations such as the WWF, Polar Bears
International, Russian Arctic National Park, South Georgia Heritage Trust and others with annual donations
On Antarctic voyages, Poseidon Expeditions provides a pre-voyage hotel night in a 5* hotel resort, part of "Leading Hotels of the World" (upon availability)
Poseidon Expeditions provides an onboard musician for a relaxing and joyful evening atmosphere aboard
Poseidon Expeditions provides all passengers with a memorable digital voyage log
On expeditions to polar regions, every passenger receives a customized expedition parka to keep
Expedition Team
Jan Bryde
Expedition Leader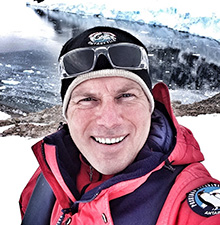 Jan was born in Hamburg, Germany in 1966. He spent his childhood in Spain and returned to Germany to finish his studies and become a travel agent by profession. Since 1994 he is working as Expedition Leader and Cruise Director aboard Expedition Vessels, ocean liners and river cruises. While this time he travelled to more than 115 countries, not only to the classical cruise destinations, but also to remote places beyond the touristic paths. Jan cruised around the World, travelled the European Waterways on Rhine, Main and Danube, Russia from St. Petersburg to Moscow and Rostov, Europe from Norway, the Baltic Sea to the Mediterranean, cruised up the St. Lorenz into the Great Lakes, visited the Amazon and the Orinoco Rivers, circumnavigated Spitsbergen, explored Kamchatka, Chukotka, the Bering Sea from the Kuril Islands up to Wrangell Island in the Kukchi Sea and crossed the North West Passage visiting Ellesmere Island and Greenland. Expeditions also led him to Papua New Guinea and the South Pacific from Fiji to Easter Island. He made more than 30 voyages to Antarctica, including a Semi Circumnavigation from New Zealand, the Ross Sea to the Antarctic Peninsula. Jan has also reached ten times the North Pole "90° North - Top of the World". One of Jan Brydes passions is the photography. Combining the photography with his travel experience, Jan holds lectures on high modern digital standard. He supplies various Cruise companies and worldwide agencies with his beautiful pictures and postcards. Jan Bryde is fluent in German, English, Spanish and French. He also speaks Dutch and Danish
Viktor Boyarsky
Expedition Leader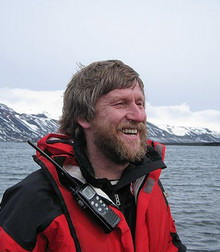 World-known Russian polar adventurer and explorer. From 1973 to 1987 Viktor worked as polar scientist for Arctic and Antarctic research Institute in S.-Petersburg. During that time he took part in 5 Antarctic expeditions and more than 6 expeditions in the Arctic.
Viktor's Achievements:
Viktor is PhD in Physics and Mathematics and author of two books about Transgreenland and Transantarctic expeditions. 1988. Viktor Boyarsky became a member of International Expedition, which crossed the Greenland from South to North on ski and dog sledges. In 1989-90 he was a member of International Transantarctic Expedition, which was the first in the history to cross the Sixth continent by the longest route. The expedition had lasted 7 months; more than 6,500 km had been covered on ski and dog sledges from east to west coast across the South Pole. 1995. Viktor was the co-leader of the International Transarctic expedition, started from the Siberian coast and finished on Ward Hunt Island in the Canadian Arctic. 1997-2002. He'd led 14 ski-expeditions to the North Pole and worked as a guide-lecturer and Expedition Leader onboard the nuclear icebreakers cruising to the North Pole. Currently. Viktor Boyarsky is a Director of the Russian State museum of Arctic and Antarctic in St. Petersburg, head of the Polar Commission of the Russian Geographical Society. Viktor Boyarsky is a member of the National Geographic Society of the USA
Saskia Travert
Assistant Expedition Leader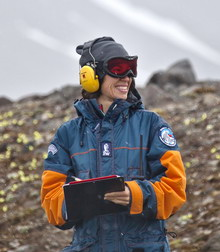 Saskia worked many years in the airline industry where she travelled intensively visiting five continents. Seeking more adventure, she moved to South Africa working for private lodges inside the Kruger National Park. Her career with Expedition cruising began on the Russian icebreaker Kapitan Khlebnikov aboard which she traveled to the Arctic and Antarctic many times. Saskia has a lifelong passion for the natural world especially of the Polar Regions. She has traveled to the North Pole 10 times
Andrea Machacek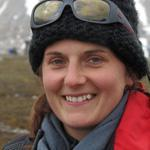 Travel has been central to Andrea's life almost from the very beginning. At age 12, she left her native Austria on a charity mission to aid victims of the Chernobyl nuclear disaster. Since then, she's worked as a flight attendant, studied in Moscow, Paris and Honduras and carved out a career for herself in the travel business as an incentive manager, organizing everything from dragon boat races in Shanghai to dog-sledding in Finland. Oh, and did we mention she's trekked across South America, scaled the Andes and crossed Iceland on horseback? Yeah, she did that, too. The imposing beauty of Antarctica stirred Andrea's passion for the polar regions, particularly the plants and wildlife that survive under some of the world's harshest conditions. Aboard the Expedition, she's your guide, friend and translator for anything in English, Spanish, French and Russian
Dmitri Banin
Ornithologist & Marine biologist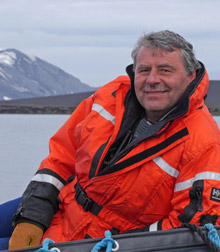 Having got Ph.D. in Zoology Dmitri conducted his research in the high mountains of Central Asia, including the Pamir, Alay, Tian-Shan, Kopet-Dag and Altay. He also worked in the Caucasus and Siberia, where he climbed in the Sikhote-Alin mountains and covered more than 1000 km on kayak along the Tunguska river. Dmitri also studied migratory birds in the White Sea, Sea of Japan, Kamchatka, Sakhalin and Kuril Islands. Subsequently he was invited to work for the USSR Ministry of Natural Resources as the Head of the Department of Science. There Dmitri established and developed research programs for all Natural Reserves of the former Soviet Union and represented the Ministry during workshops and negotiations abroad. These programs included protection of Siberian Tigers in the Russian Far East and establishing a crane sanctuary on the Amur river. With the collapse of the Soviet Union Dmitri was invited to work for the University of Washington, U.S.A., where he organized numerous international research expeditions to Chukotka, Kamchatka, the Russian Far East, Mongolia, Alaska, Argentina and Nicaragua. He also gave lectures at U.S. colleges, in Japan and on numerous cruise expeditions to the Arctic and Antarctic. With more than 30 years of travel experience around the globe, Dmitri has a great passion for travel and is always looking forward to his next adventure
Dr. Franz Gingele
Expedition Leader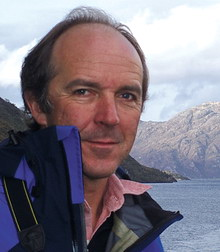 Born and raised in the mountains of southern Bavaria, Franz has long been surrounded by rocks and ice. While studying geology, glaciology, and climatology, Franz engaged in serious rock-climbing and mountaineering pursuits in the Americas. It was during his PhD in marine geology at the Alfred Wegener Institute for Polar and Marine Research in Bremerhaven where Franz first became involved with the Polar Regions. He spent over a year in Antarctica throughout for comprehensive research, cruises and the icy continent has gripped him ever since. Franz began as a polar travel guide and Expedition Leader in 1998 and has over 160 expedition cruises to his credit along with his substantial scientific research. His work with the Wegener Institute also included Arctic research and extensive travel throughout the northern latitudes. This labor of love led to Franz being recognized as a Fellow of the Explorers Club, a professional society dedicated to the advancement of exploration and scientific research. Decades ago, Franz adopted Australia as his home and now takes part in marine geology and climate research at the Australian National University in Canberra
James Cresswell
Glaciologist, Photographer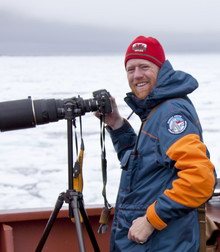 James was born 1977 in Wales and a man of many talents. He is especially interested in Climate Change and is doing a PhD on the thinning of the Greenland Ice Sheet. He also has a degree in Geology and a Masters in Oceanography. James has been working four seasons in Antarctica. He has also worked as an expedition guide in Canada, Greenland, Svalbard, Papua New Guinea and Australia. Previously he worked in the television documentary industry, and was the researcher on a Discovery Channel Geological series, and was part of the BBC's Blue Planet series. In addition James is a trained photographer and has managed a photo library. In his capacity as a Geologist he has worked on oil rigs in Algeria and the North Sea. His love affair with the Polar Regions began 14 years ago when he spent time in west Greenland doing voluntary work with the Inuit Community, this was later followed by joining an oceanographic survey cruise off East Greenland. James also has his mountain leader qualifications and has worked as a hiking guide to the Burgess Shale fossil quarry in the Canadian Rockies
Dr. Susan Currie
Geologist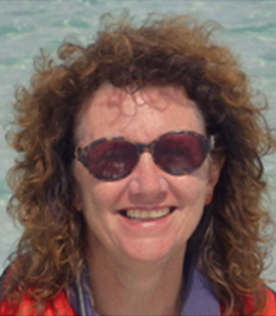 Susan hails from the North-East of England and brings 10 years of polar expedition cruising experience to the expedition team along with a PhD from the University of Cambridge and an irrepressible good humour. Her geological interests include ice, plate tectonics, energy resources, and climate change. When she's not preoccupied with geology, Susan can often be found hill-walking or practising Tai Chi. Susan is an accredited Taoist Tai Chi instructor and has been known to give a class or two during voyages. After 27 years working in the world of government regulatory and corporate geo-science while making time for expedition cruises around the globe, Susan recently crossed over to expedition cruising full-time with no regrets. We welcome her to the expedition team
Veronika Nemes
Historian/Environmental Policy Specialist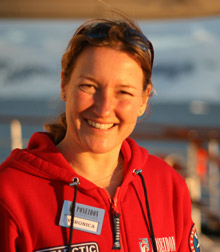 A Senior Research Fellow at the University of Melbourne, Veronika's area of expertise is environmental policy with a specialty in international climate change negotiations, perhaps the most important agreements influencing the future of the Polar Regions. Veronika's polar background includes working with Canadian authorities to establish environmental policies that increase the habitat for the grizzly bear, wolf and caribou populations in the Arctic, living in a remote Greenlandic Inuit settlement studying the impact of climate change on the local livelihood and culture, and camping in a tent for three months in the Antarctic while making a documentary. Veronika first began expedition cruising in the Antarctic Peninsula in 2009. While her work is certainly significant to expedition team, so are her hobbies of kayaking, diving, and photography. Veronika is also a talented linguist and can be found chatting in German, Spanish, Italian, Russian, as well as English and her native Hungarian
Victor Serov
Polar Explorer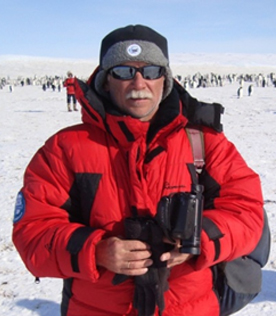 Victor was born in Leningrad (now Saint Petersburg). In youth he read lots of books about explorers and faraway countries and was dreaming about adventures and expeditions. Being a student he started training in mountaineering and skiing. At that time a book of Vladimir Sanin "A beginner in Antarctica" inspired him so much that he set a lifetime goal to visit Antarctica. Following his goal Victor got a job of a geophysicist at the Institute of Terrestrial Magnetism, Ionosphere and Radio Waves Propagation. His dream came true in 1981 – he wintered over at the Soviet Antarctic Station Novolazarevskaya as a scientist. After that he was offered a job at the Arctic Antarctic Research Institute. Polar life started. Victor led geophysical Expeditions to the Arctic islands and archipelagos and wintered on the drifting ice floor in the Arctic Ocean at a scientific station NP-26. New wintering in Antarctica took place during 1989-90. This time it was at the Pole of the Cold – Russian Station Vostok. The International dog sled expedition Trans-Antarctica (to cross the Antarctic Continent from the Peninsular to Mirnyy Station via the South Pole and Vostok Station) had been carried out during this season and Victor was involved in the logistical support from the Soviet side. In 1992 Victor was a guide of the first ever tourist expedition to the Geographic North Pole (with helicopters from the Russian Arctic). After that Victor used to lead 20 ski (last degree) trips to the North Pole. On millennium Victor was a guide in the Antarctic ski Expedition from Hercules Inlet to the South Pole. Between 2006-2012 Victor was busy with logistical support of private and tourist expeditions to Antarctica from Cape Town, South Africa. He used to fly to the South Pole with tourist groups himself, developed new ski and all terrain vehicle routes on the Continent. His deep knowledge and experience in the extreme expeditions allowed him to realize many other projects on all Continents of the Planet. Victor, fascinated by travel and Polar Regions, always takes video camera with him and makes movies. He is a member of the Explorer's Club (USA), Russian Academy of Tourism, Russian Geographical Society and a member of the Consulting Committee of the World Encyclopedia of Travel
Peter von Sassen
Historian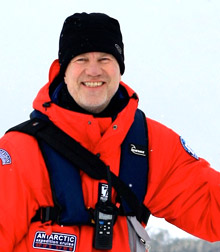 A familiar face to our German passengers, Peter is an on-air personality at NDR Fernsehen (North German television) and a host of the news program Hallo Neidersachsen. Peter spends a great deal of time on the other side of the camera as well as a noted editor, filmmaker, and documentarian. Peter has a wide range of interests including polar explorer Ernest Shackleton, Swedish author Astrid Lindgren, red wine, cooking, cooking with red wine, and capturing adventures on camera at the ends of the earth. Among other extreme latitude exploits, Peter was a member of the 2008 Ultima Thule expedition to Greenland that discovered one of the most northerly points of land on the planet. Peter enjoys contributing to polar expedition cruises by sharing his multi-media presentations and great admiration for the polar explorers of old
Jamie Watts
Biologist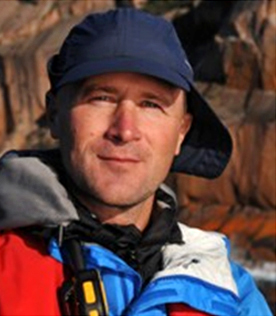 Since earning his degree in biology in 1994, Jamie has become an accomplished scientist, educator, SCUBA diver, underwater photographer, writer, illustrator, and polar traveler. Whether contributing to magazines, leading courses in marine biology, studying the history of exploration, or doing field research on anything from the huge colossal squid to the tiny Antarctic copepod, Jamie demonstrates a continuing passion for marine life and the global ecological "big picture". After living and working on South Georgia for two years as a fisheries scientist for the British Antarctic Survey, Jamie began his Antarctic and High Arctic expedition voyages. Since 2007, Jamie has logged nearly 180,000 nautical miles at sea as an educator and expedition leader on over 90 trips from the North Pole to Antarctic Peninsula. We welcome Jamie as a tirelessly enthusiastic addition to the team. When at home in the U.K., Jamie devotes his time to his son Alex, an aspiring writer
Birgit Lutz
Historian, Journalist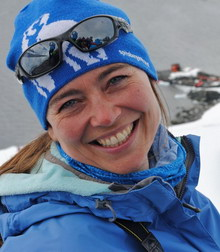 Birgit, born 1974 in Bavaria / Germany, is an award-winning journalist and writer - and since a couple of years an arctic addicted adventurer. She studied journalism in Bamberg and Rome. She worked for various German journals and the German broadcasting service ZDF in Rio de Janeiro. Since 2000 she is editor for the biggest newspaper in Germany, the Suddeutsche Zeitung. Her passion for travelling and the fascination for Arctic history made her participate in a North Pole expedition aboard the nuclear Icebreaker Yamal in 2007, where she got infected with the arctic virus – the neverending passion for this region. She started specializing in arctic subjects, in 2008 she initiated "Circumpolar Studies" at the Canadian University of the Arctic and became a member of the German Society of Polar Explorers. For living her arctic dream she became quite adventurous: In 2010 and 2011 she did two ski expeditions to the North Pole with the swiss adventurer Thomas Ulrich. In 2013 she crossed Greenland in a self-guided expedition of 560 km on skis. Birgit became then a Fellow of the Explorer's Club New York
All over Germany and on board of ships she holds lectures and readings, accompanied by her stunning pictures - and she never gets tired of explaining why we should treat better the planet we live on. She published two books about her polar travels: "Unterwegs mit wilden Kerlen" and "Grenzerfahrung Gronland". She lives and works at lake Schliersee in Bavaria, loves hiking, sitting beside the lake and planning new trips to the North
Dmitry Kiselev
Historian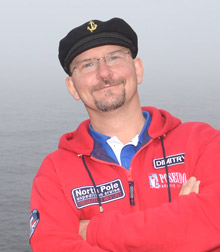 Born in remote Kamchatka, Dmitry studied Chinese language and Chinese culture in the Far Eastern State University (FESU) in Vladivostok. Professional translator and orientalist, he started to travel in school years and is still looking to expand the geography of his trips. Dmitry's travel credo is to get closer to every new country, using the cheapest local transport or hitchhiking. He threw down many shoes on backpacker's paths from Madrid to Saigon and from Amsterdam to Zanzibar. Known as travel-writer in Russia, Dmitry published several guidebooks and took part in the "Lonely Planet in Russian" project. He has ship-modeling and diving among his hobbies. In 2011 Dmitry joined Poseidon team to explore North Pole and to dive (literally and mentally) in Arctic waters. On board of our ship he found a use for his long-time interest in history of shipbuilding and navigation. Now Dmitry is very much looking forward Antarctica adventures!
Tatiana Alexeeva
Ice Expert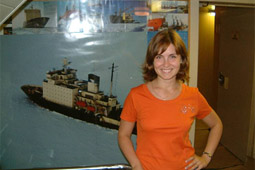 She studied Oceanology at the St.Petersburg State University (Russia) and received the Master Degree in 2004. The second high education she got at the Bremen University (Germany), studying "Polar and Marine Research"
In 2004 she joined the Arctic and Antarctic Research Institute of St. Petersburg where she works as a research scientist in the Sea Ice Department
During the last five years she participated in 10 scientific expeditions to the Arctic and she measured sea ice in the Arctic Basin, Greenland, Chukchi, Beaufort, Barents, Kara, Laptev and East-Siberian Seas
Her scientific interests: spatial and temporal variability of the Arctic sea ice, climate change, remote sensing of the ice cover, and ship navigation in the Arctic
Tatiana has been twice to the North Pole as a scientist for the Arctic and Antarctic Research Institute of St. Petersburg.
John Killingbeck
Historian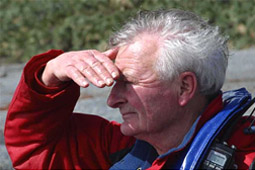 John Killingbeck is a true gentleman. Born in the countryside of Devonshire, England, he studied Geography in Bristol and made his M.Phil in Polar studies at the Scott Polar Research Institute at Cambridge. In 1960, at the age of 23, he first time voyaged down to the Antarctic on the Royal Research ship, John Biscoe, to work for two and ½ years with the British Antarctic Survey. He was the base leader and magistrate of Deception Island, South Shetlands and in charge of building the historical hangar at Base B, which is now a historic monument. In 1962 he spent a year as dog driver, supporting first survey to Adelaide Island, where he lived in a small base of six persons and 54 dogs. After his time in Antarctica he worked as a teacher for polar history and as adult University Lecturer at the University of Exeter. In 1993 he was invited back to Antarctica to sledge the last dogs on the continent. During this time he took 10 m ice core temperatures for climate studies. Since the Millennium John lectures as Historian on expedition vessels and loves to "info-tain" passengers with his vivid stories and experiences
Kara Weller
Marine Biologist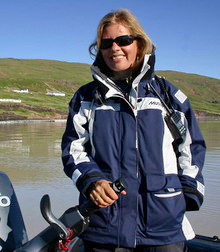 Growing up in Alaska Kara Weller became interested in wildlife when bears and moose constantly visited the woods next to her house. She traveling regularly to Antarctica since 1994, Karas major interests are the Polar Regions of which she enjoys sharing her love and knowledge with others. Since then Kara has done over 90 trips to Antarctica, and after spending years doing research in various parts of the Arctic she also worked on over 60 tourism purpose trips in the Arctic including several trips to the North Pole.
Kara studied as a biologist and obtained B.S. and M.S. degrees in wildlife biology. She studied gray whales in the Bering Sea and eiders in the Arctic. She worked for wildlife agencies such as the U.S. Fish and Wildlife Service and the National Park Service as well as for private organizations such as the Alaska Bird Observatory. In recent years she has involved herself working extensively in the ecotourism industry as expedition leader guiding or lecturing on ships in Alaska, Canada, Eastern Russia, Antarctica, the Arctic through the Northwest Passage to the North Pole and the North Atlantic
Rainer Ullrich
Expedition Painter, Artist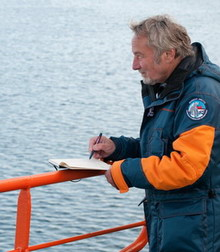 Rainer Ullrich was born in Flensburg / Germany. Besides of his passion for painting, he is a printer and Graphics expert by profession in Hamburg. On a painting expedition he crossed the Sahara- Desert to Nigeria in 1969. 1981 he painted and drawed on sailing trips through Scandinavian waters and founded his present company "art & work". He worked on various large format acryllic painting projects with the theme "water" in Berlin, Hamburg, Gelsenkirchen and Flensburg. Rainer Ullrich developed his passion for the expedition painting 2002 during his legendary crossing of the North East passage together with Arved Fuchs, followed by an Amazon expedition in 2004. Both expedition resulted with successful book print releases
2005 he joined a Balloon expedition over Portugal with Franz Taucher and 2006 an expedition to Greenland with Arved Fuchs. His wonderful books are insider bestsellers in the expedition industry
John Killingbeck
Historian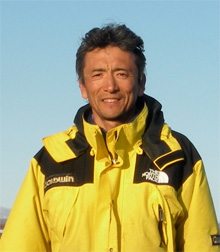 Keizo Funatsu is an outdoor enthusiast and adventurer, born in Osaka Japan in 1956. He graduated from Kobe University in Japan. He started his adventurous travel life rather early: at the age of 22 he crossed USA by bicycle
In 1984 he crossed the Sahara Desert from Algeria to Niger by bicycle. In 1988 Keizo crossed Greenland from south to north by ski and dog team. In 1989-1990 Keizo crossed the Antarctica mainland from the Antarctic Peninsula to Mirrny Russian Station across the South Pole by ski and dog sleds. It was a 4,000-mile and 220-day international expedition
In 1991 Keizo traveled along the Amur river in Russia with TBS film crew. He moved to Alaska in 1994 and ran 200, 300 and 1,000-mile sled dog races including Iditarod and Yukon Quest. The same year he founded the Silver Cloud dog mushing school in Alaska
In 1996, 1999 and 2000 Keizo participated in Rocky Mountain Stage Stop 1,000-km sled dog race in Wyoming. In 1997 and 1998 he took part in Yukon Quest 1,600-km race. In 1999 Keizo win some races in Alaska. During the last years Keizo Funatsu operates Silver Cloud dog mushing school, guides the Last Degree ski expedition to the North Pole and South Pole, and guides Kilimanjaro climbing in Africa
Luis Turi
Zodiac Driver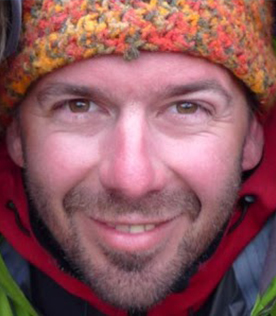 Born in the Patagonian province of Neuquen, Luis began climbing the nearby Andean mountains when he was 19. He then studied tourism and trained as a professional guide at Universidad Nacional del Comahue and Universidad Nacional de la Patagonia San Juan Bosco. Although he travels to lakes and mountains around South America, Antarctica, and Europe, Luis spends most of his time and energy in his native Patagonia. Here he is the director of Compania de Guias de Patagonia as well as one of their busiest guides doing what he loves best, paddling, hiking, and climbing in the beautiful south
Rickard Berg
Zodiac Logistics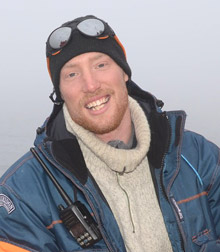 Rickard was born and raised in the archipelago of Stockholm and has always had a close proximity to the sea and loved being out on the water. His polar career began after having completed a ships officer exam at the Maritime Academy of Kalmar and an education as a Wilderness guide with the Swedish Tourist Association. Rickard went to Svalbard and learned to drive dogsleds and worked 4 winter seasons as a dog musher and Ice cave guide. Also, he worked 2 seasons as an instructor for the British Army in their winter adventure training in Canada. Rickards passion for tough adventures also led him to work as a kayak guide for long expeditions in Greenland?s northwest coast. For the last 3 years, Rickard has been working as zodiac driver in Antarctica and South Georgia
Annette Bombosch
Marine Biologist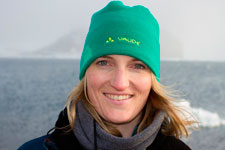 Born in Germany, Annette studied marine biology and obtained a Master in marine conservation in New Zealand. There, she had the once in a lifetime chance to visit Antarctica as part of a postgraduate certificate offered by the University in Christchurch. Camping at the base of Mount Erebus – the same region used as base camp by early explorers such as Scott and Shackleton – Annette became infected with the "polar virus". Returning from New Zealand, she conducted her PhD at the German Polar Research Institute (Alfred-Wegener-Institute Helmholtz-Zentrum für Polar- und Meeresforschung) studying Antarctic whales and participating in several expeditions to the Southern Ocean on board the German research icebreaker RV Polarstern. This summer, Annette extended her polar experience by participating in several expedition cruises to Spitzbergen, Greenland and the North Pole. Annette has a great passion for the polar regions, especially marine mammals, that she loves to share with others no matter what time of the day