The North Pole is the world's northernmost point and a prize still zealously pursued by adventurers and explorers today.
This incredible adventure starts in Murmansk, Russia. There you embark the nuclear-powered icebreaker 50 Let Pobedy for a roundtrip voyage to the geographic North Pole. Anticipation heightens as the mighty ship takes us smashing through the frozen Arctic Ocean toward our goal.
In addition to the exhilaration of cruising aboard a state-of-the-art icebreaker and the thrill of standing at the top of the world, you also have the opportunity to explore the rarely visited Russian Arctic archipelago of Franz Josef Land. This is an extraordinary voyage on a one-of-a-kind ship, worthy of a true adventurer.
THE LARGEST ICEBREAKER
The Russian name of the vessel 50 Let Pobedy means 50 Years of Victory. Powered by two nuclear reactors generating 75,000 horsepower and capable of crushing a clear path through multi-year ice up to three meters thick, she is the largest and most powerful icebreaker ever built
Cruising aboard this marvel of engineering is an unforgettable experience in itself. She is a working ship, purpose-built to pilot cargo and research ships through heavy ice. For you she provides a friendly, casual atmosphere with unexpected amenities, comfortable accommodation, and a restaurant serving gourmet cuisine.
TOP OF THE WORLD
We carefully navigate the icebreaker to precisely 90 degrees north for our champagne toast of this momentous accomplishment. We ceremoniously drop the anchor on a sturdy stretch of ice and disembark onto the frozen sea. You are now able to stand at the top of the world.
You literally circumambulate the globe during our International Round Dance and you are treated to a special barbeque meal on the ice. You may even have the chance to take a plunge into the icy water. No other point on Earth is exactly like the North Pole and there is no celebration anywhere quite like this.
FRANZ JOSEF LAND ARCHIPELAGO
This remote wilderness is home to a variety of iconic High Arctic wildlife, including polar bears. In the surrounding icy waters it is possible to spot seals, walrus, and the elusive bowhead whale. The archipelago also hosts an abundance of nesting Arctic seabirds such as the rare ivory gull.
A wealth of well-preserved historical sites makes this island group a veritable museum of polar exploration. Here you have the opportunity to walk in the footsteps of famous explorers such as Fridtjof Nansen. The eerie remains of makeshift dwellings give testimony to the incredible struggles of these early expeditions.

Departs From
Murmansk, Russia
The journey begins
Location:Murmansk, Russia
Welcome to the city of Murmansk on Russia's Kola Peninsula, starting point of our adventure. Upon your arrival at the airport we provide a transfer to your hotel, which has been arranged by us and is included in the price of the voyage.
Embarkation in Murmansk
Location:Embarkation Day
Today we provide a group transfer to the port where we welcome you aboard the nuclear-powered icebreaker 50 Let Pobedy. Explore the ship and get orientated as we slip our moorings and sail north out of Kola Bay.

The Voyage North
Location:The Voyage North
Nowhere can it be more truly said that "getting there is half the fun". As we cruise northward through the Barents Sea there is always the possibility of seeing whales. Meanwhile, you have the opportunity to learn about the unique icebreaking capabilities of the ship. You are also treated to a tour of the engine room.
As we make our way across the ice cap, you witness firsthand the ship's awesome power as massive ice blocks give way under the enormous bulk of the spoon-shaped bow. The sensation of being on deck at this time is surreal and unforgettable.
We also take advantage of 24-hour daylight to offer helicopter flightseeing tours. From the air you can observe the ship crushing a path through the ice. You also have a unique vantage point from which to witness the stunning beauty of this vast polar icescape.
North Pole
Location:North Pole
Welcome to the geographic North Pole! After carefully navigating to 90 degrees North, we ceremoniously drop the anchor on a sturdy stretch of ice and disembark onto the frozen sea.
Now is the time to experiencing the long-anticipated thrill of standing at the top of the world. Join hands with your fellow passengers and literally walk around the world during our special International Round Dance. You are also treated to a barbeque meal on the ice. You may even have the chance to take a plunge into the icy water!
After our memorable time at the North Pole we turn around and head south. But the adventure is not over yet. The High Arctic archipelago of Franz Josef Land is still to come!
Exploration of Franz Josef Land
Location:Exploration of Franz Josef Land
The Franz Josef Land archipelago, part of the Russian Arctic National Park since 2012, is a nature sanctuary. Polar bears and other quintessential High Arctic wildlife—such as walruses and some rare whale species—can be spotted anytime, anywhere in and around Franz Josef Land. Scree slopes and cliffs around the islands host enormous nesting colonies of migratory seabirds such as guillemots, dovekies, and ivory gulls. We take advantage of 24-hour daylight to exploit every opportunity for wildlife viewing and excursions via Zodiac and helicopter.
Franz Josef Land is home to some interesting geological features, such as the mysterious stone spheres on Champ Island. Collectors of geographical extremes may take note that Cape Fligely on Rudolf Island is the northernmost point of land in the Eastern Hemisphere.
Franz Josef Land also offers visitors the opportunity to walk in the footsteps of famous polar explorers at well-preserved historical sites. The journals of explorers such as Julius von Payer, Benjamin Leigh Smith, Frederick George Jackson, and Fridtjof Nansen come alive at Cape Norway, Cape Flora, Eira Harbour, and Cape Tegetthoff. Memorials, monuments, crosses, and the remains of dwellings are testimony to incredible historical events that are further illuminated by our expert lecturers.
Tikhaya Bukhta is currently a Russian Arctic National Park ranger station occupying Soviet-era research buildings and was also a major base for polar expeditions. Nearby, the fascinating columnar basalt cliffs of Rubini Rock are home to thousands of nesting seabirds.
The Voyage South

Location:The Voyage South
After our amazing time in Franz Josef Land we cross back south through the bountiful waters of the Barents Sea. Presentations and workshops by our expert staff ensure that these days at sea are not idly spent. You may also take advantage of onboard facilities and amenities such as a polar library, volleyball court, gym, two saunas, warm seawater pool, gift shop, and massage treatments. Seabird viewing and whale sightings can be enjoyed from panoramic open decks as well as exterior stateroom windows.

Disembarkation
Location:Disembarkation in Murmansk
Our once-in-a-lifetime journey comes to an end. After breakfast we say farewell in Murmansk. We provide you with a transfer to the airport for your flight home.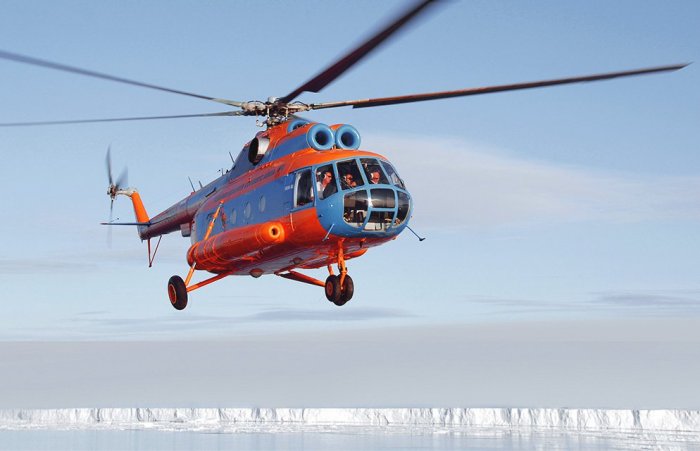 HELICOPTER TOURS
FREE OPTION
We take advantage of continuous daylight to offer flightseeing tours with the icebreaker's onboard helicopter. From aloft you have a unique and exciting perspective from which to witness the ship plowing its way through the ice and to experience the surreal beauty of the vast frozen ocean.
We also use the helicopter to achieve landings in Franz Josef Land when conditions prevent landings by Zodiac, giving you unparalleled access to this remote and hard-to-reach Arctic wilderness. Weather permitting, flightseeing tours and landings by helicopter are included free on all North Pole voyages.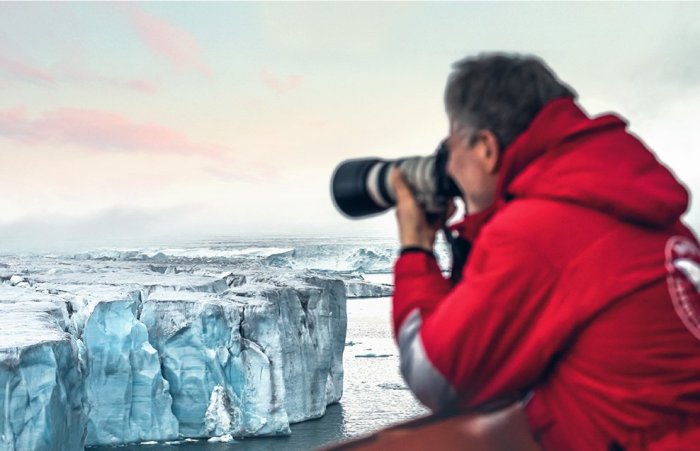 PHOTOGRAPHY
FREE OPTION
The vast, intricate, and ever-changing icescape of the Arctic Ocean offers a unique and challenging world of subjects for photographers of all backgrounds. Our free photography program gives you the chance to learn and practice your photography skills alongside an expert photographer.
Primeval landscapes, intriguing geological features, poignant historical remains, and charismatic Arctic wildlife in Russia's Franz Josef Land also provide a wealth of inspiration for the photographer. Our expert will be available to help you make the most of this bounty in your viewfinder.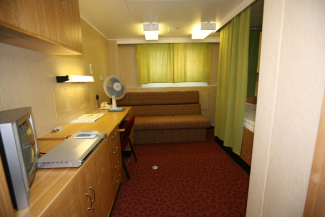 Standard Twin
14 sq.meters (151 sq.ft.); 1 lower berth, 1 sofa bed; TV set and DVD player; opening windows; private facilities with shower.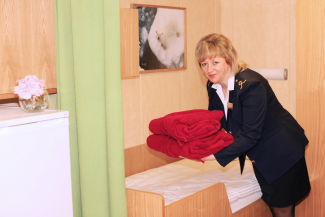 Mini suite
22 sq.meters (237 sq.ft.); sitting area with sofa bed, bedroom separated from sitting area; TV set, DVD player, refrigerator; opening windows; private facilities with shower.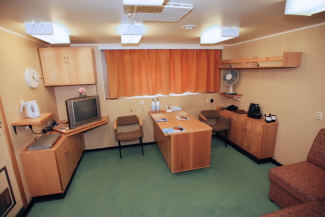 Junior Suite
24 sq.meters (258 sq.ft.); 2 rooms: bedroom and sitting area, sofa bed in sitting room; TV set, DVD player, refrigerator, coffee maker; opening windows; private facilities with shower.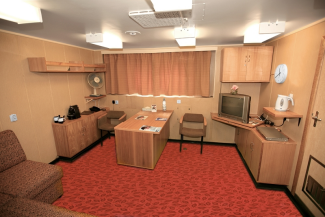 Grand suite
Features two lower berths, private en-suite facilities with shower, toilet and washbasin. Approximately 15 m2 (160 sq. ft.) and includes a larger window than other cabins.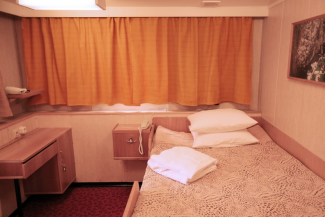 Victory Suite
28 sq.meters (301 sq.ft.); 2 rooms: large bedroom and sitting room, sofa bed in sitting room; TV set, DVD player, refrigerator, coffee maker; opening windows; private facilities with bathtub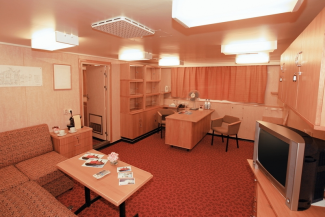 Arktika Suite
33 sq.meters (355 sq.ft.); 2 rooms: very spacious bedroom and sitting room, sofa bed in sitting room; TV set, DVD player, refrigerator, coffee maker; opening windows; private facilities with bathtub.
PHOTOS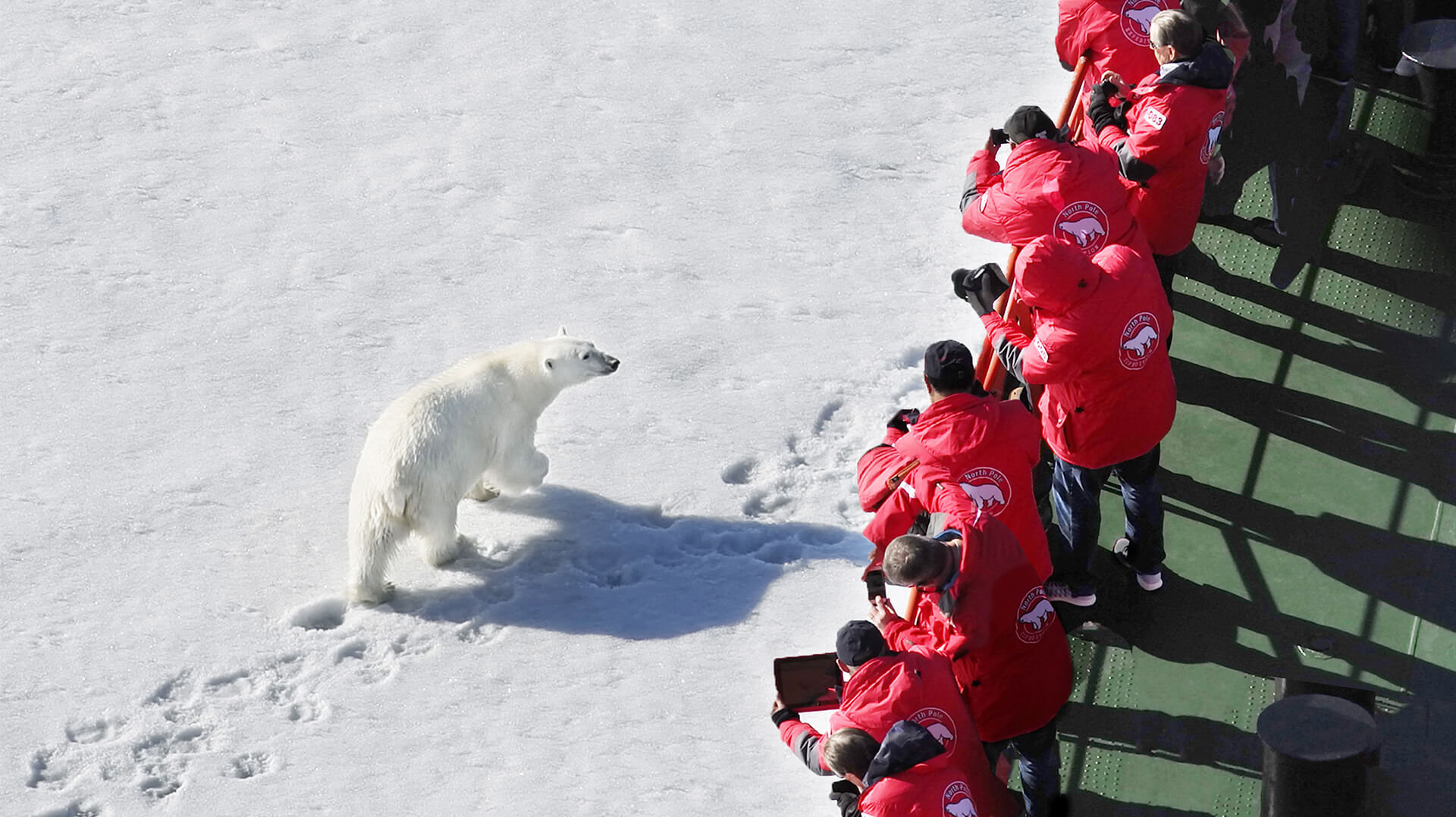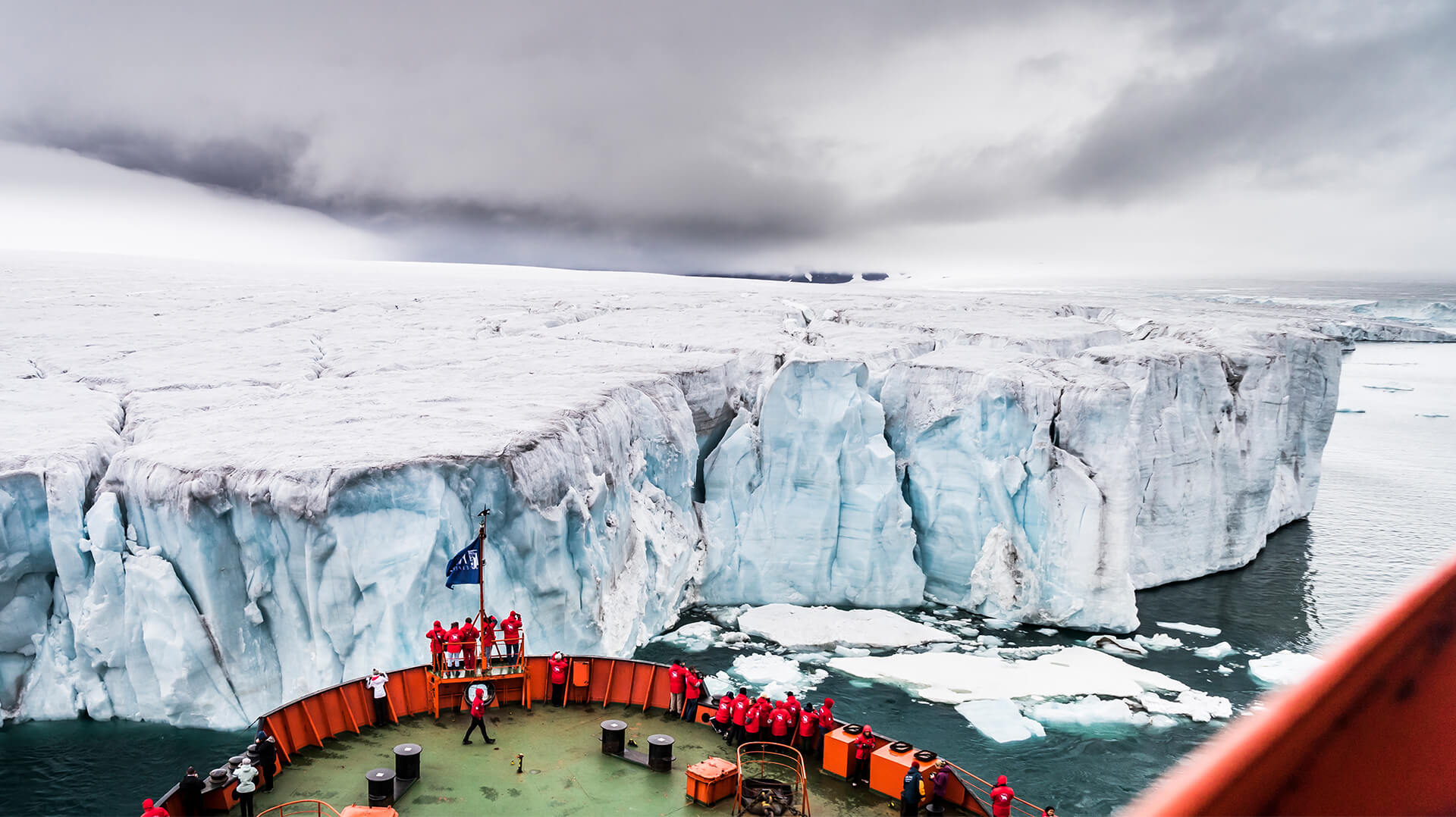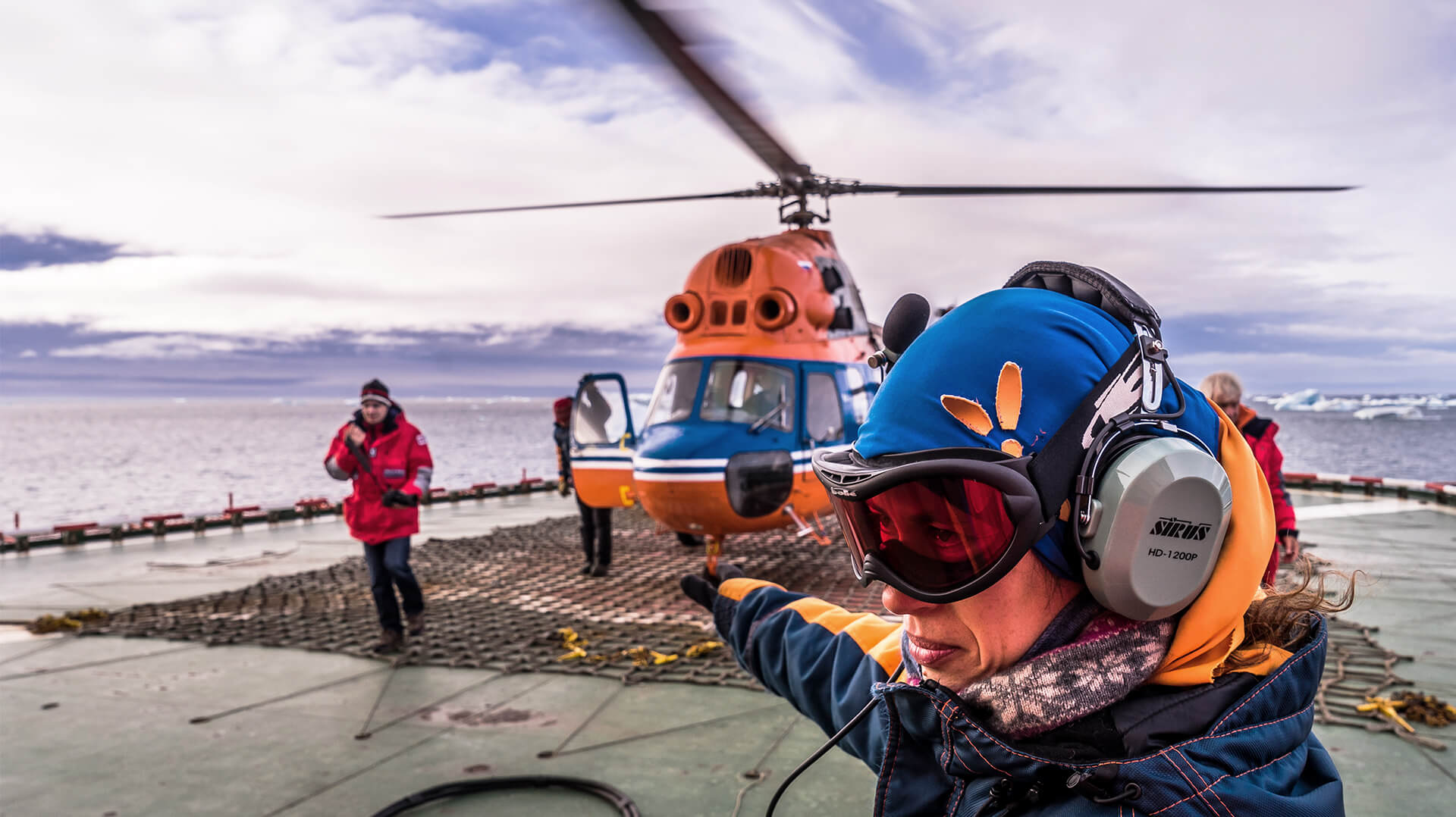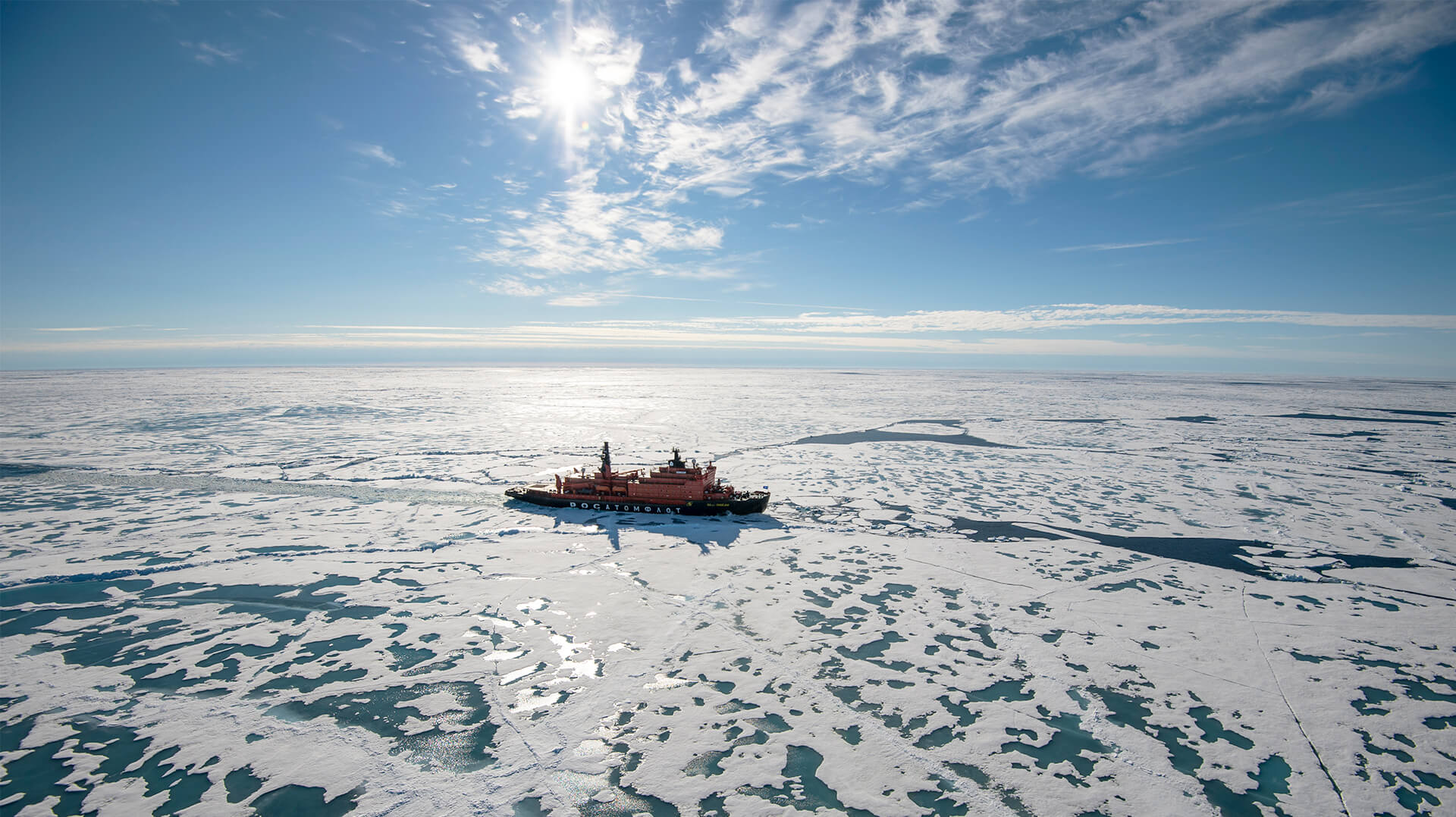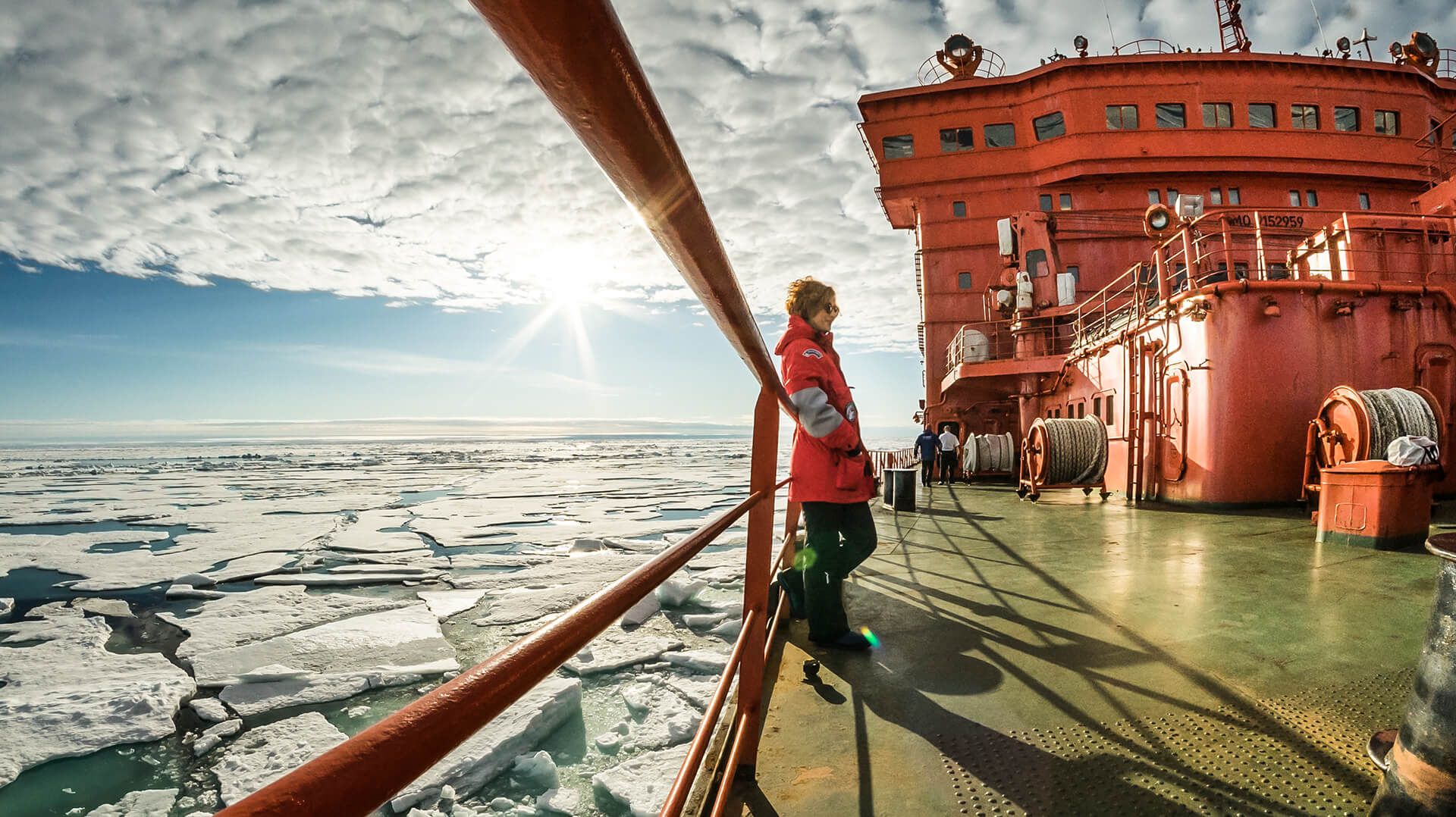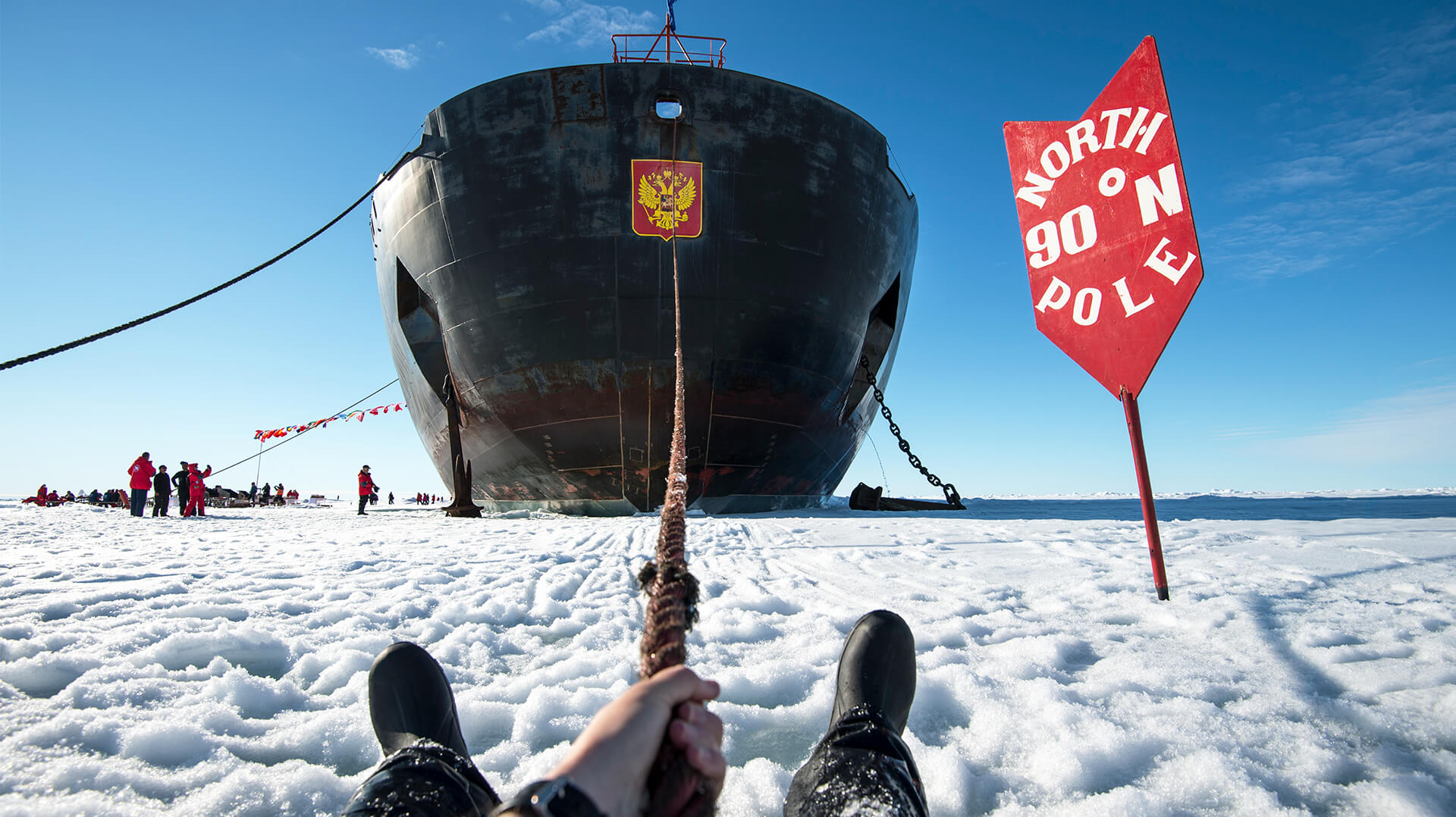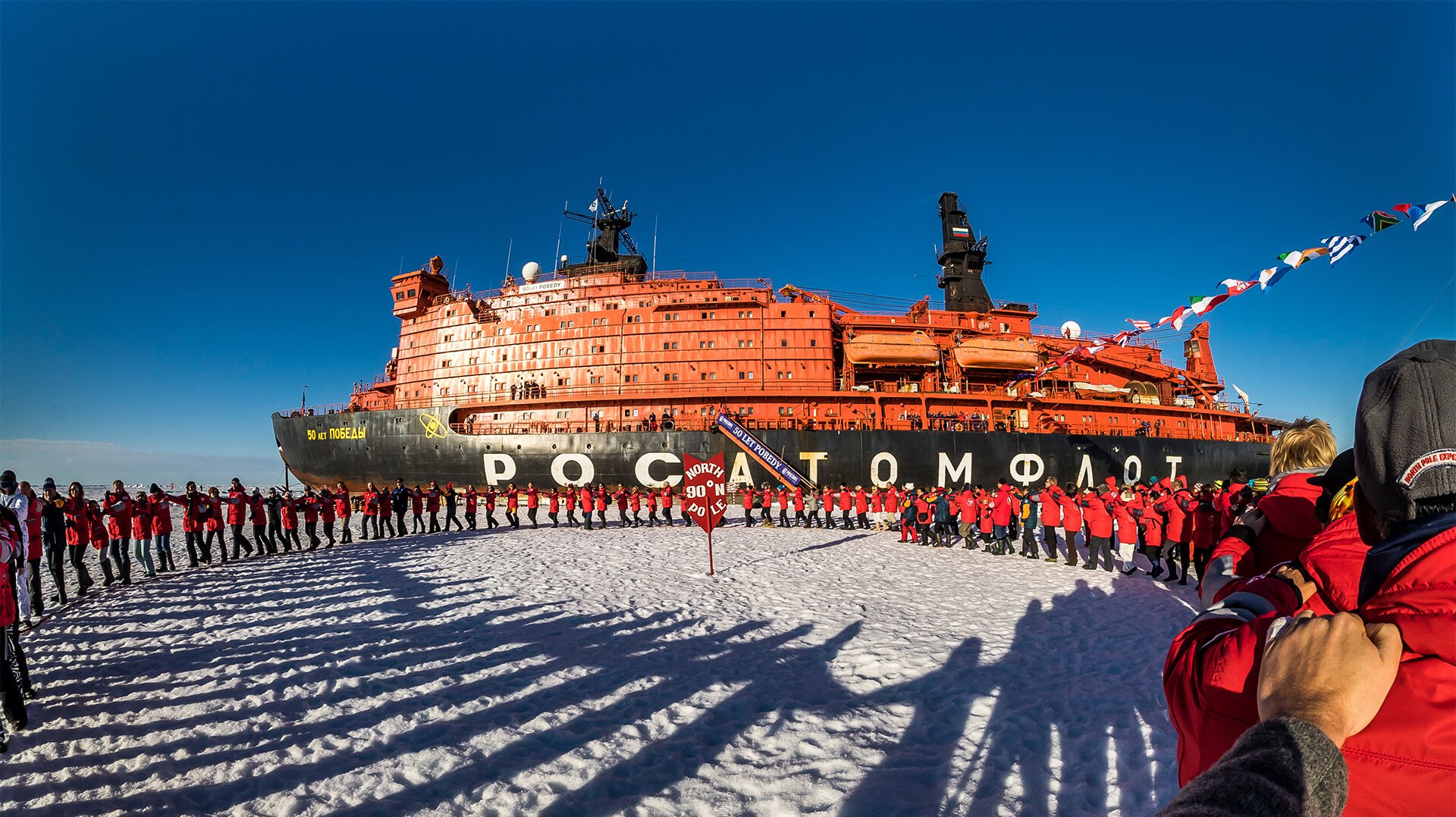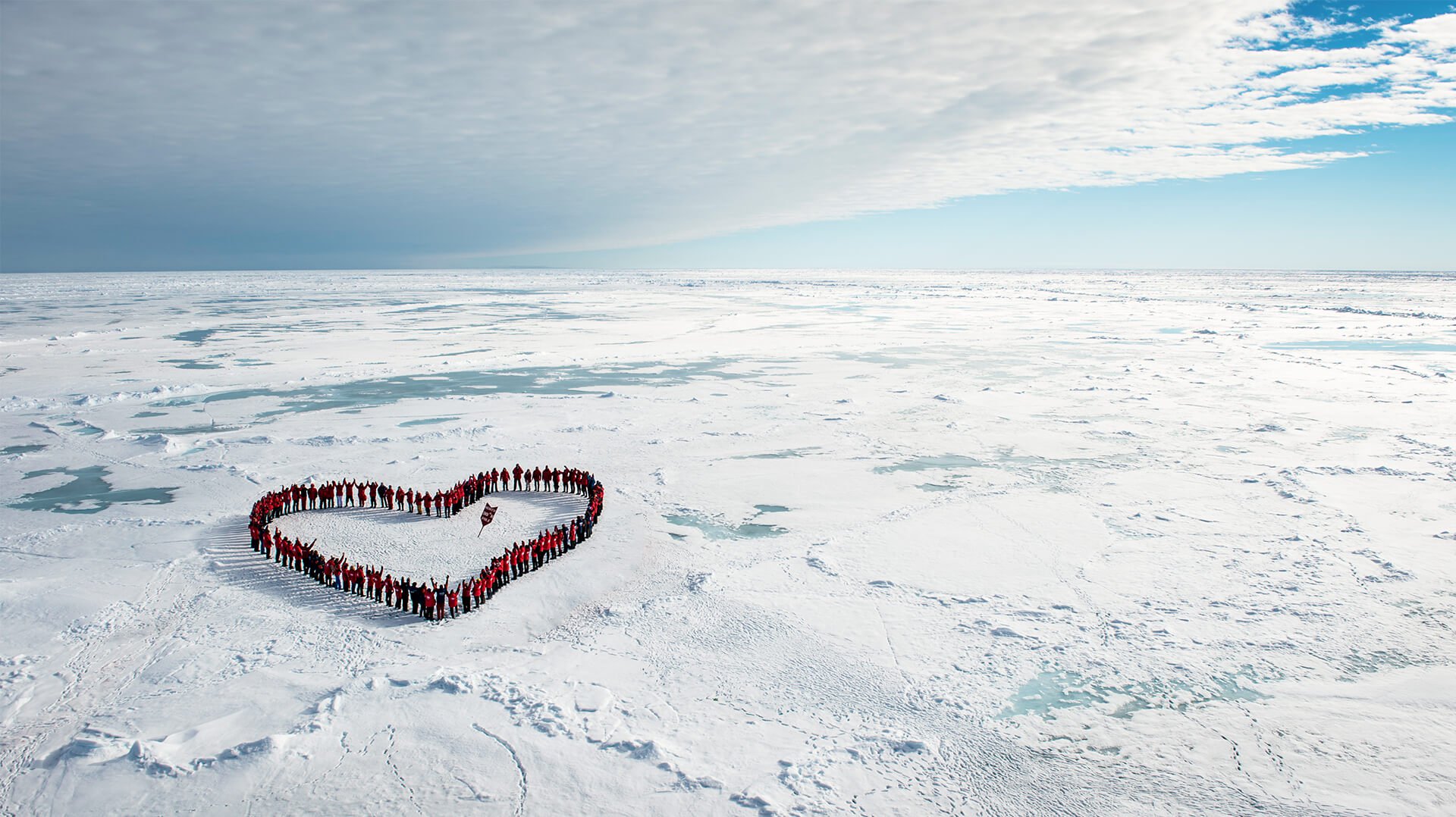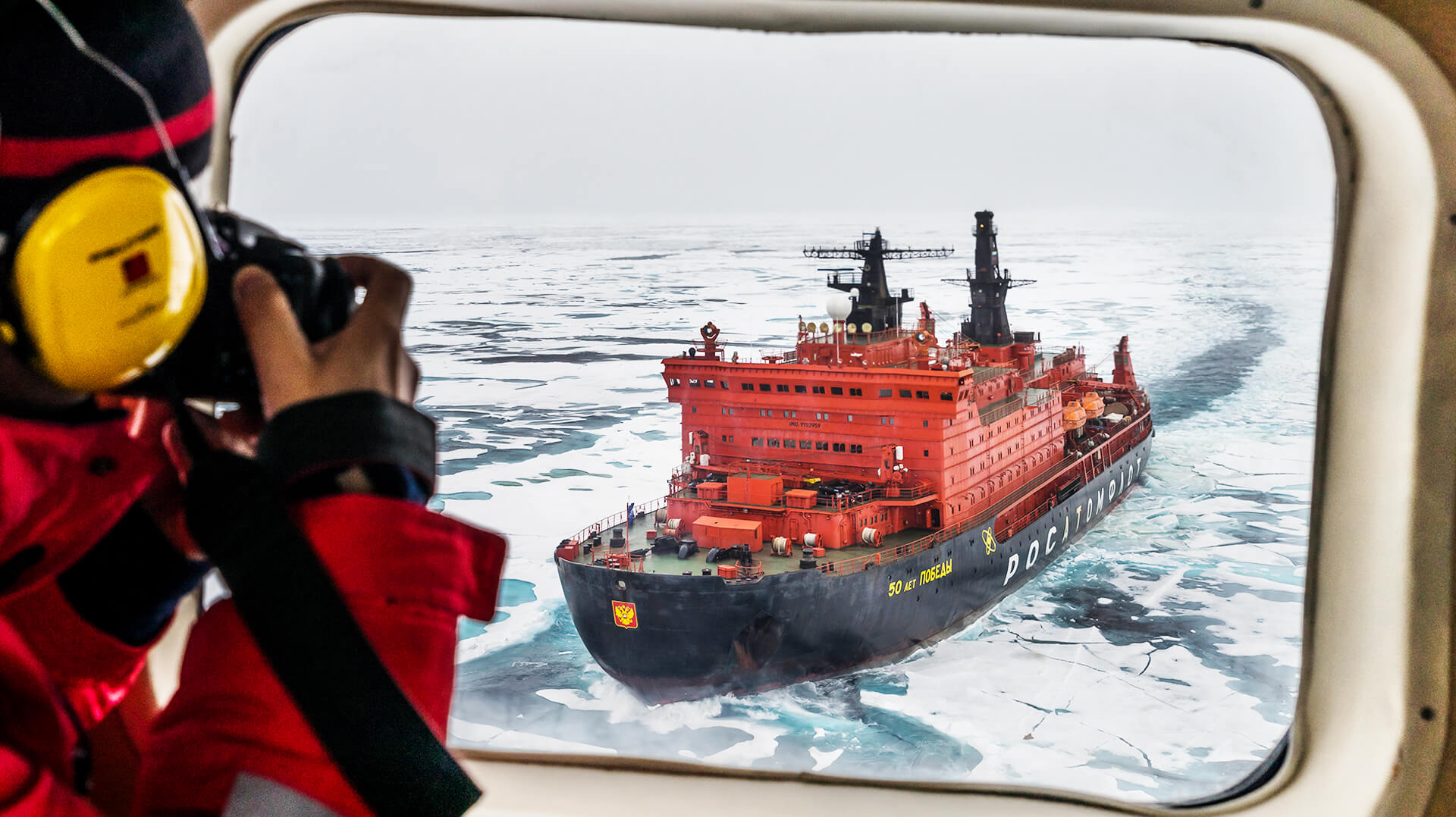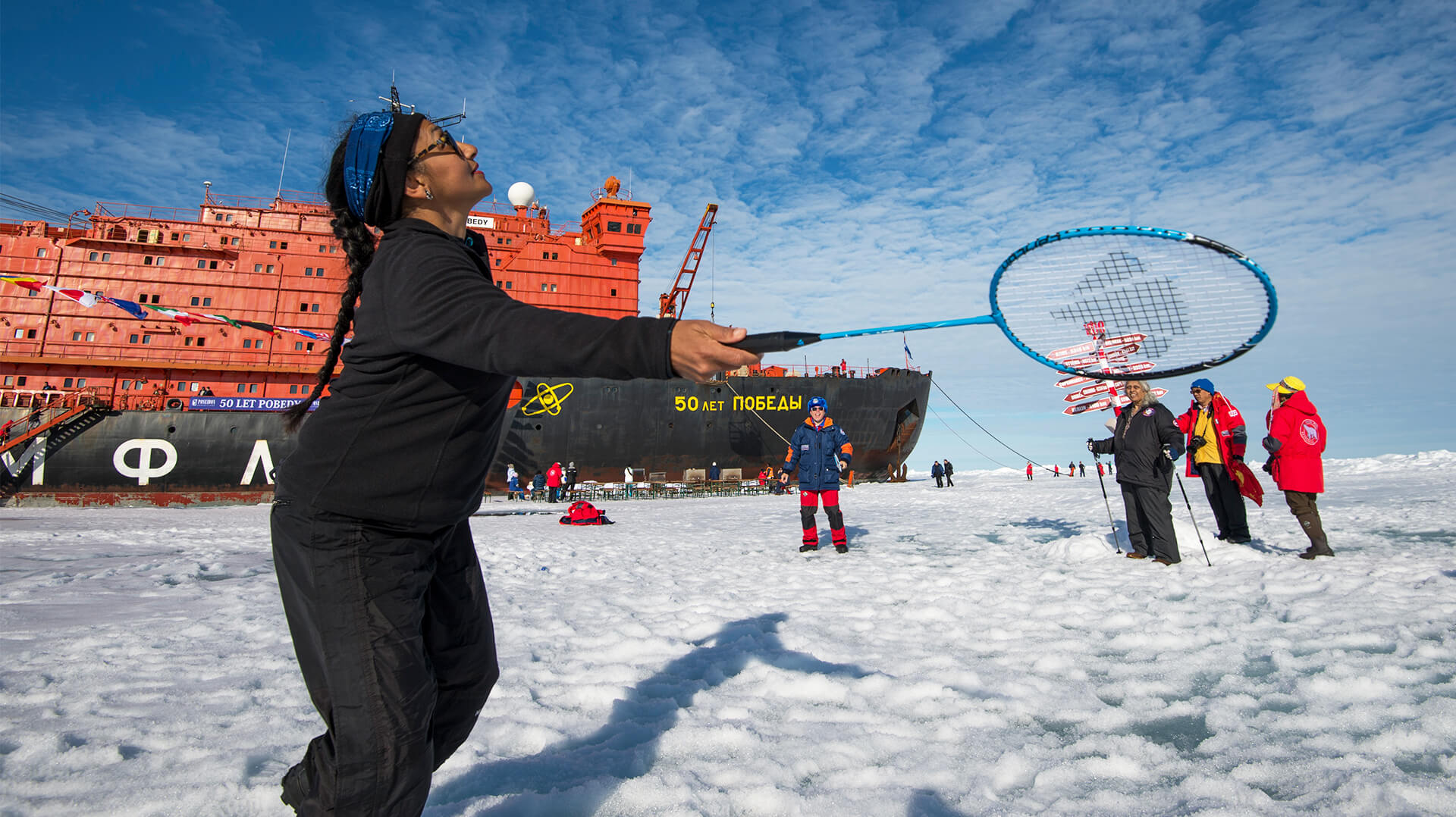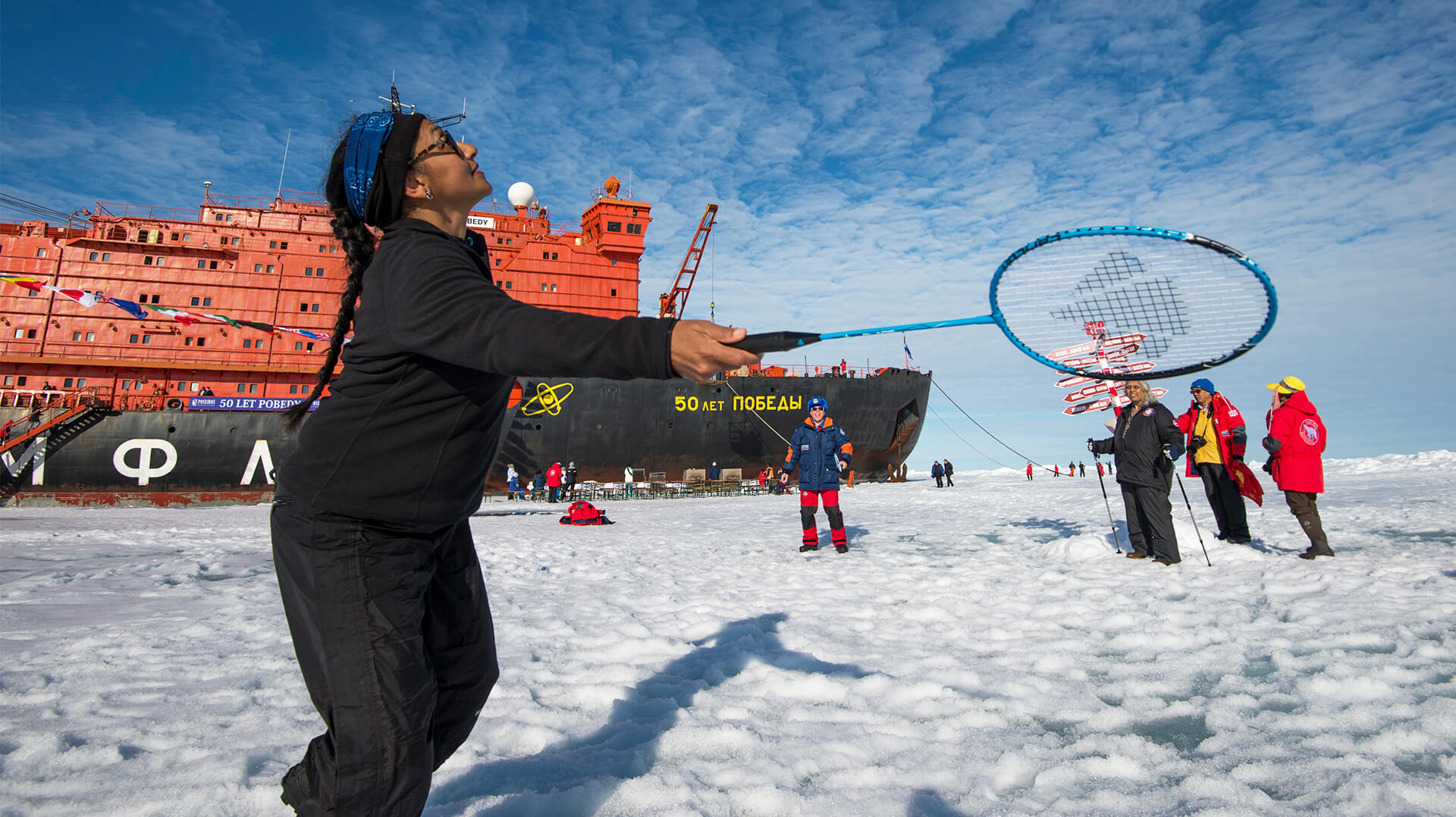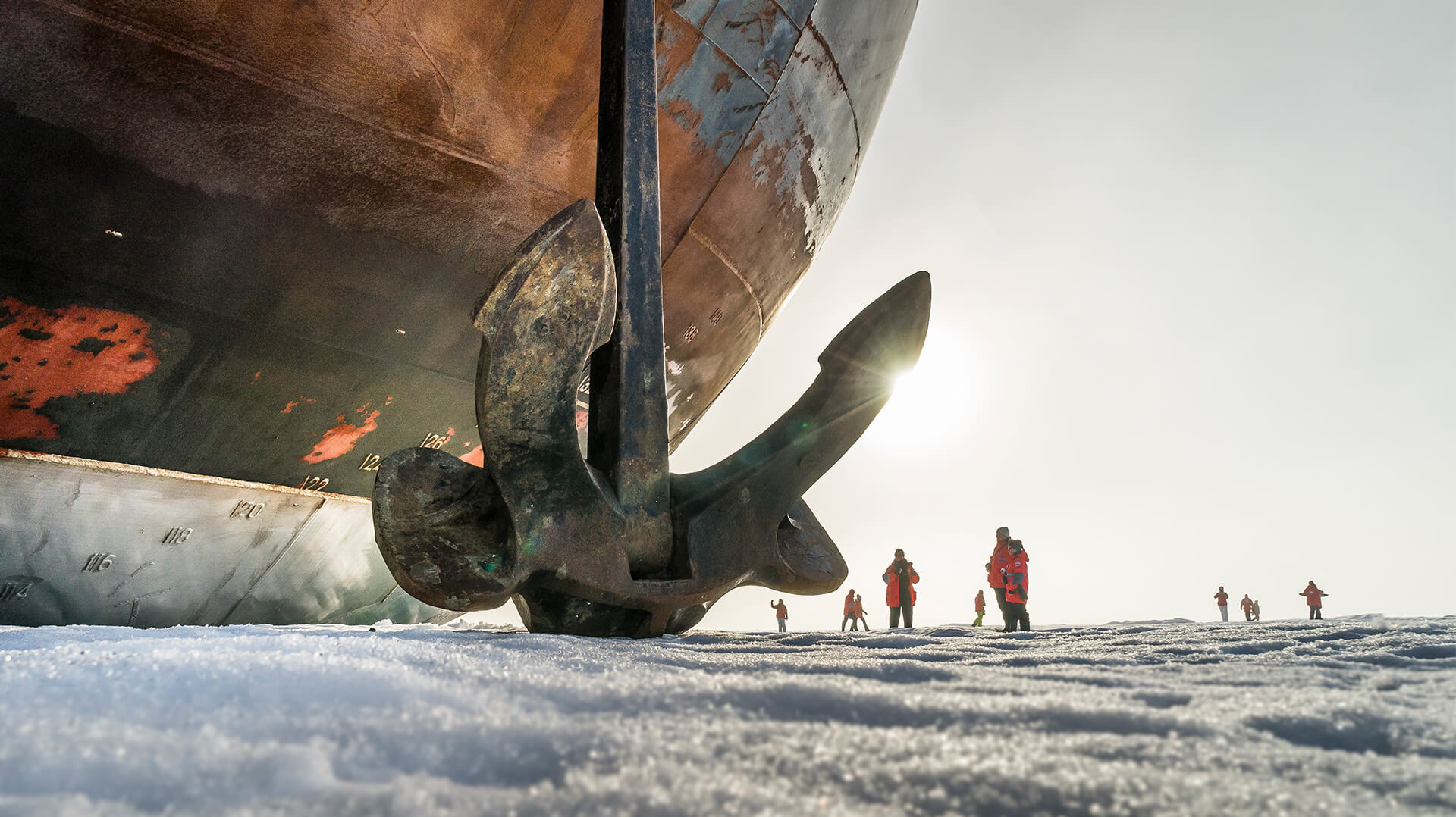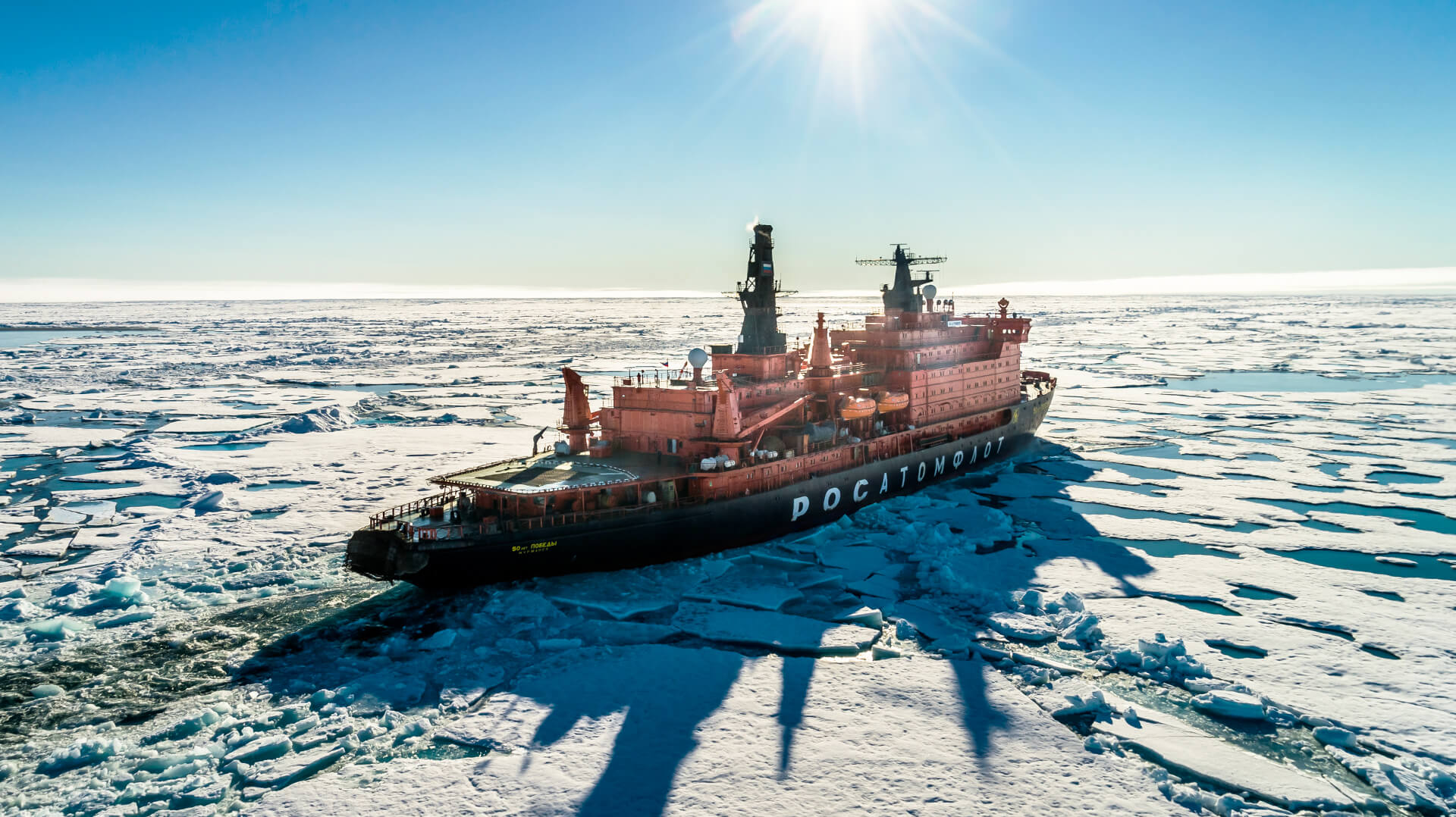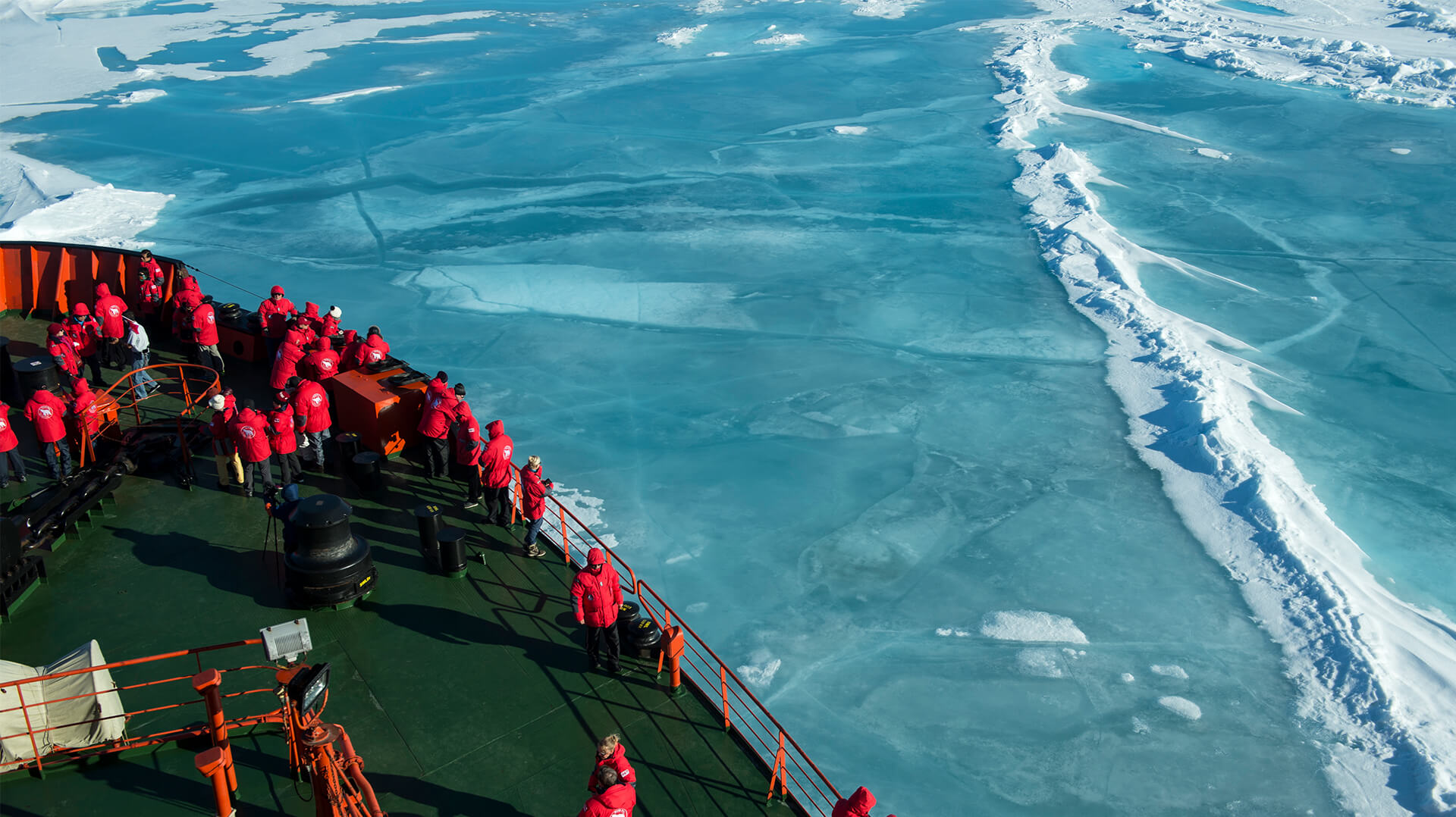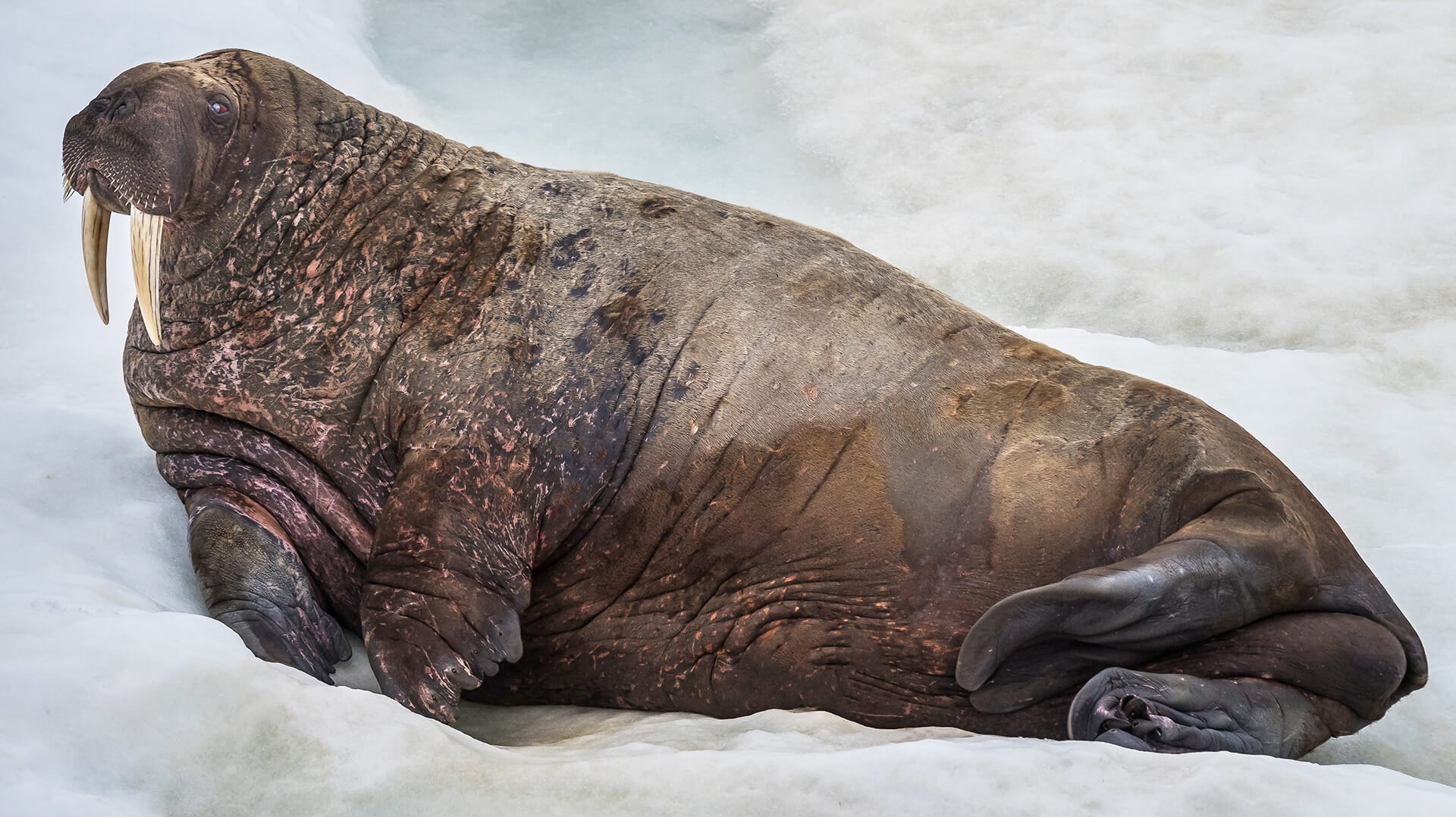 VIDEOS
Expedition to the Top of the world
Included
1 night pre-expedition hotel accommodation in Murmansk, Russia, with breakfast;
Transfers from airport to the hotel in Murmansk 1 day prior to the departure;
Transfers from hotel to the port in Murmansk on embarkation day;
Transfers from the port to the airport or central location in Murmansk upon disembarkation;
Shipboard accommodation with housekeeping;
Shipboard breakfasts, lunches and dinners;
Coffee, tea and cocoa available around the clock;
All shore excursions and activities throughout the voyage by helicopter;
All shore excursions and activities throughout the voyage by zodiacs;
Shore landings included in daily program;
Program of lectures and informal discussions by experienced Expedition Team and guest lecturers;
Professional Expedition Leadership;
Branded Poseidon Expeditions parka;
Rubber boots for shore landings for the time of the cruise;
Hair dryer and bathrobes in each cabin;
Informative pre-departure materials;
Expedition log with picture album on DVD;
All miscellaneous service taxes and port charges throughout the program;
All shipboard luggage handling;
Personalized medical insurance covering the risks of evacuation and repatriation. Coverage: 100,000 EUR. Duration: cruise days only. This is only for passengers under 85 years old. Passengers over 85 years old are to purchase their owninsurance policy with coverage not less than 100,000 EUR;
Letter of Invitation. This document should be presented to the Russian Consulate in your area in order to obtain a Russian Visa. Please, contact the Russian Consulate to learn more about the procedure for obtaining a Russian Visa. Do not hesitate to contact Poseidon Expeditions if any questions arise. Let us know if you have any difficulties in visa processing.
Not included
Airfare to and from your hometown to Murmansk ;
Helicopter flying time in excess of that offered for the group;
Passport and visa expenses (if required); A RUSSIAN VISA IS REQUIRED FOR THE TRIP. THE VISA MUST BE OBTAINED BY THE CUSTOMER AND IS AT HIS OR HER EXPENSE. Please, contact your local Russian Consulate to learn more about the procedure for obtaining a Russian Visa. PLEASE, NOTE: FOR CERTAIN NATIONALITIES SCHENGEN VISA IS REQUIRED;
State arrival and departure taxes (if levied);
Meals ashore and supplements in respect of single hotel accommodation (if required);
Excess luggage charges on international and local flights;
Telecommunication services; laundry, bar and beverage charges aboard the vessel;
Luggage, cancellation insurance (strongly recommended);
Tips for stewards and other service personnel aboard (at your discretion).
How to pack for polar Climate
Our recommendation is to bring "arctic quality" clothes that will fit into a layered clothing scheme. For example, packing "arctic quality", light-weight long-sleeve t-shirts, turtlenecks, and a water-proof shell is better than packing five big, cotton sweaters and two huge "winter-down" coats. Three to five pairs of active-wear pants, and then a pair of waterproof pants such as ski or snowboard pants, which is designed to respond to temperatures variations, is much better than seven pairs of jeans. Keep in mind that you may experience anything from t-shirt weather to artic, sub-zero snow-squalls (if you are lucky), so, each day's temperature might change quickly without any time for you to change your clothes – layers are essential. Of course, your dinner clothes are your decision. Please read the following article designed to give you an understanding of how to dress. The tips and Packing List, below, will act as a guide in the packing process.
Why being layered is so important? Temperatures may be warmer in the day than you expect, which will cause you to sweat. Your sweat will make for a cold feeling and once you get wet, your body will lose its natural temperature at a higher rate than before. If you are dressed appropriately, you can remove a light-weight layer and carry it with you. Second, your body works hard due the climate. The cold weather, snow, and natural adjustment of your body require a significant output of physical energy other than just walking. You will want to be able to take off and put on layers as needed. It can't be stated enough here; layers are the key to comfort in a Polar climate.
Being waterproof is also essential. Although summer temperatures are generally mild, you should expect wind, clouds, and precipitation. It is also possible that water will spray up on passengers during Zodiac cruising. We can say with certainty that if your clothes are not waterproof on the outer layer, you will get cold. In this regard, we recommend being mindful of having waterproof shoes as well. Trust us, having a water-proofed outer layer can make or break your travel experience.
Beware of tight clothing that doesn't let your body "breathe". Part of being insulated is a system of letting the natural warm air of your body counteract the cold air you encounter. If your clothes are too tight, and don't allow for insulation, you can get cold easily. Also, remember that cotton isn't really an insulator. So, we recommend more modern artic designed clothing.
Finally, remember the "wind-chill factor" and plan accordingly. A stiff wind on a polar plain can sweep away any generated body heat in a second, and it's important that your clothes are windproof. A good, warm wind-proofed shell will keep your chill to a minimum, so make sure any shell you bring is insulated, water- and windproof.
The following tips will help you be comfortable in cold weather
Avoid overdressing and reduce perspiration.
Wear water repellent outer layers that will keep you dry on the outside and still able to "breathe" enough that moisture from your body can escape.
Body heat is most likely to be lost from hands and feet. Keep them warm and dry.
Mittens are better than gloves.
If the rest of your body is covered, as much as 90% of the heat you lose will come from your head; be sure to wear a cap.
Dress in comfortable, loose layers. It is far better to wear layers of relatively light, loose clothing than one thick, heavy item. Between each layer there is insular air that, when heated by your body, acts as a natural insulator. It will also allow you to keep from overheating.
Modern "arctic design" clothing is best – Polar fleece is a good example. Also, wool and silk are superior to cotton because they trap warm air. When damp or wet, polyester is a better insulator than goose or duck down.
Packing List
Parka (usually provided by Operator)
You should look for a lightweight, wind and weather-resistant shell with insulation. Bright colors are more visible, and safer in polar environments. Traditionally, Polar travelers wear red.
Warm Trousers
Ski pants are suitable if you have them. Otherwise, bring any sturdy trousers that can be layered between your long underwear and rain over-trousers
А pair of water-resistant "rain-pants" made of coated nylon are essential. These are worn like shell for your legs. Look for Gore-Tex and other synthetic fabrics that are waterproof and "breathable". These materials keep out wind and water without trapping excess heat. This is probably the most important clothing you can pack for a trip.
Waterproof Pants (Trousers)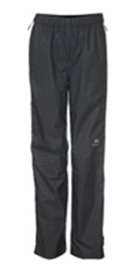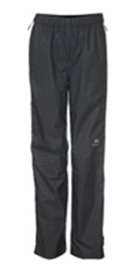 You should select medium to thick thermal underwear; long sleeve thermal top, trousers and socks. Most people prefer a ightweight version – but this depends on your personal thermostat. Polypropylene fibres are warmer when damp or wet, than silk or wool, although the CSIRO has recently developed a fine wool product called Sportwool.
Thermal Underwear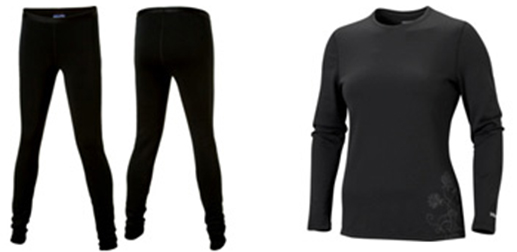 Wool sweaters or a polar fleece jacket of medium weight are recommended.
Sweaters or polar fleece jacket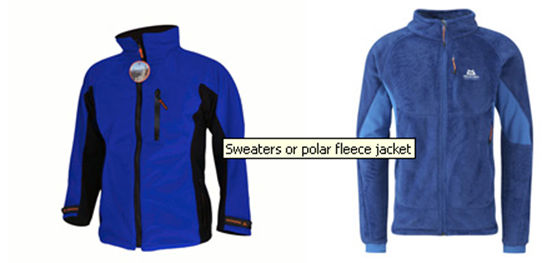 Turtlenecks or t-shirts
Bring several practical turtlenecks or t-shirts for layering and use around the ship.
Mittens and under-gloves
Keeping your hands warm and dry is an important challenge. Thin polypropylene gloves should be worn underneath warm mittens so you can take off your mittens to operate your camera and maintain some level of protection against the cold. These should be loose enough to permit good blood circulation. It's a good idea to bring an extra pair of wool mittens to wear if your other pair gets wet or lost.f
Woolen Cap or fleece cap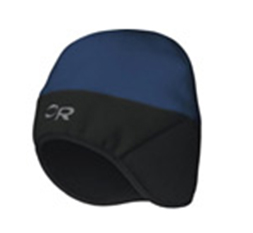 A warm cap to protect your ears.
Scarf
A warm scarf can help you to protect your neck
Warm Socks
Sturdy, tall wool (or other thick material) socks should be worn over a thin pair of silk, polypropylene or cotton/wool socks which provide enough insulation for your feet. Bring several pairs of outer socks, as your feet will inevitably get wet.
Insoles for gumboots
They will keep your feet warmer when sitting in the Zodiac for long periods.
Rubber Boots (usually provided by Operator, please check at the time of booking)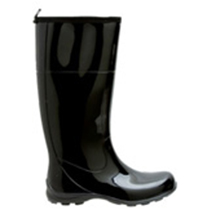 A pair of pull-on rubber, unlined and completely waterproof boots that are mid calf or higher (12-16", 31-41 cm high) with a strong, ridged non-skid sole is essential for landings. You may have to step from the Zodiac into icy water up to 10" (25 cm) high on some landings. Also, expect poor footing on the ice and ashore. Do not bring heavy, cumbersome boots that make it difficult to walk. Boots with waffle soles like those on a hiking boot or running shoe tend to give the best footing. Ideal boots are «Wellies» or «Viking» boots. Remember that you will be wearing these boots a lot. So they must be comfortable for extended wear and walking. The boots should not be too tight or too sloppy. If they are too tight you will get cold feet.
For maximum warmth, wear loose-fitting boots and two pairs of socks. Try out your boots before the voyage.
Ship Attire
Dress on the ship is informal. Clothing on board is usually jeans, corduroys, casual slacks or trousers, long sleeve shirts or t-shirts, fleece and a parka in hand during the day. Lightweight walking shoes/boots are comfortable and some people like to take them ashore.
Backpack
A waterproof nylon backpack, rucksack, or similar bag for carrying your camera and other gear. Make sure your primary shore-landing bag has shoulder straps so that your hands are free, when boarding the Zodiac. It is very important that you have some way to keep your camera dry, particularly while you are on the Zodiacs.
Sunglasses
High quality sunglasses with U.V. filter are recommended even on cloudy days, as the U.V. reflects powerfully, even when you don't expect it. We do not require "glacier glasses"; your normal sunglasses will suffice, but polarized sunglasses are most effective. Tinted ski/snowboard goggles are also be useful if conditions are windy, snowy, etc.
Sun-block lotion
Protective sun-block lotion for your lips, hands and face. The reflected glare from water, snow and ice can be intense and will burn the skin of passengers in certain conditions. In any regard, it is highly recommended.
Camera
Camera, battery charger. It is advisable to bring an extra camera in case of malfunction or accident.
Extra pair of prescription glasses
Those who wear contact lenses should also bring glasses because salt and wind can irritate the eyes.
Bathing suit
For hotels, aboard some ships and (just maybe) a polar plunge.
Medicines
Prescription medicines and other remedies such as seasickness medication. Be prepared for rough water – also, please bring a signed and dated letter from your physician stating any health problems and dosage of medications, for emergency use.
Binoculars
A pair of binoculars for spotting whales and seabirds from deck is highly recommended.
Plastic bags
Zip lock plastic bags for your camera.
Earplugs
Earplugs may be useful if you are sharing a cabin with a snorer.
Dressing for Gateway Cities
Don't forget this important aspect of your trip – your personal style is our best advice.
Jan Bryde
Expedition Leader
Jan was born in Hamburg, Germany in 1966. He spent his childhood in Spain and returned to Germany to finish his studies and become a travel agent by profession. Since 1994 he is working as Expedition Leader and Cruise Director aboard Expedition Vessels, ocean liners and river cruises. While this time he travelled to more than 115 countries, not only to the classical cruise destinations, but also to remote places beyond the touristic paths. Jan cruised around the World, travelled the European Waterways on Rhine, Main and Danube, Russia from St. Petersburg to Moscow and Rostov, Europe from Norway, the Baltic Sea to the Mediterranean, cruised up the St. Lorenz into the Great Lakes, visited the Amazon and the Orinoco Rivers, circumnavigated Spitsbergen, explored Kamchatka, Chukotka, the Bering Sea from the Kuril Islands up to Wrangell Island in the Kukchi Sea and crossed the North West Passage visiting Ellesmere Island and Greenland. Expeditions also led him to Papua New Guinea and the South Pacific from Fiji to Easter Island. He made more than 30 voyages to Antarctica, including a Semi Circumnavigation from New Zealand, the Ross Sea to the Antarctic Peninsula. Jan has also reached ten times the North Pole "90° North - Top of the World". One of Jan Brydes passions is the photography. Combining the photography with his travel experience, Jan holds lectures on high modern digital standard. He supplies various Cruise companies and worldwide agencies with his beautiful pictures and postcards. Jan Bryde is fluent in German, English, Spanish and French. He also speaks Dutch and Danish.
Dr. Franz Gingele
Expedition Leader
Born and raised in the mountains of southern Bavaria, Franz has long been surrounded by rocks and ice. While studying geology, glaciology, and climatology, Franz engaged in serious rock-climbing and mountaineering pursuits in the Americas. It was during his PhD in marine geology at the Alfred Wegener Institute for Polar and Marine Research in Bremerhaven where Franz first became involved with the Polar Regions. He spent over a year in Antarctica throughout for comprehensive research, cruises and the icy continent has gripped him ever since. Franz began as a polar travel guide and Expedition Leader in 1998 and has over 160 expedition cruises to his credit along with his substantial scientific research. His work with the Wegener Institute also included Arctic research and extensive travel throughout the northern latitudes. This labor of love led to Franz being recognized as a Fellow of the Explorers Club, a professional society dedicated to the advancement of exploration and scientific research. Decades ago, Franz adopted Australia as his home and now takes part in marine geology and climate research at the Australian National University in Canberra.
Dmitri Banin
Ornithologist & Marine biologist
Born in Moscow, Russia, Dmitri studied biology at Moscow State University (MSU) where he completed his Ph.D. in Zoology. During his employment at MSU Dmitri conducted his research in the high mountains of Central Asia, including the Pamir, Alay, Tian-Shan, Kopet-Dag and Altay. He also worked in the Caucasus and Siberia, where he climbed in the Sikhote-Alin mountains and covered more than 1000 km on kayak along the Tunguska river. Dmitri also studied migratory birds in the White Sea, Sea of Japan, Kamchatka, Sakhalin and Kuril Islands. Subsequently he was invited to work for the USSR Ministry of Natural Resources as the Head of the Department of Science. There Dmitri established and developed research programs for all Natural Reserves of the former Soviet Union and represented the Ministry during workshops and negotiations abroad. These programs included protection of Siberian Tigers in the Russian Far East and establishing a crane sanctuary on the Amur river. With the collapse of the Soviet Union Dmitri was invited to work for the University of Washington, U.S.A., where he organized numerous international research expeditions to Chukotka, Kamchatka, the Russian Far East, Mongolia, Alaska, Argentina and Nicaragua. He also gave lectures at U.S. colleges, in Japan and on numerous cruise expeditions to the Arctic and Antarctic. With more than 30 years of travel experience around the globe, Dmitri has a great passion for travel and is always looking forward to his next adventure.
Dr. Susan Currie
Geologist
Susan hails from the North-East of England and brings 10 years of polar expedition cruising experience to the expedition team along with a PhD from the University of Cambridge and an irrepressible good humour. Her geological interests include ice, plate tectonics, energy resources, and climate change. When she's not preoccupied with geology, Susan can often be found hill-walking or practising Tai Chi. Susan is an accredited Taoist Tai Chi instructor and has been known to give a class or two during voyages. After 27 years working in the world of government regulatory and corporate geo-science while making time for expedition cruises around the globe, Susan recently crossed over to expedition cruising full-time with no regrets. We welcome her to the expedition team.
Veronika Nemes
Historian/Environmental Policy Specialist
A Senior Research Fellow at the University of Melbourne, Veronika's area of expertise is environmental policy with a specialty in international climate change negotiations, perhaps the most important agreements influencing the future of the Polar Regions. Veronika's polar background includes working with Canadian authorities to establish environmental policies that increase the habitat for the grizzly bear, wolf and caribou populations in the Arctic, living in a remote Greenlandic Inuit settlement studying the impact of climate change on the local livelihood and culture, and camping in a tent for three months in the Antarctic while making a documentary. Veronika first began expedition cruising in the Antarctic Peninsula in 2009. While her work is certainly significant to expedition team, so are her hobbies of kayaking, diving, and photography. Veronika is also a talented linguist and can be found chatting in German, Spanish, Italian, Russian, as well as English and her native Hungarian.
Victor Serov
Polar Explorer
Victor was born in Leningrad (now Saint Petersburg). In youth he read lots of books about explorers and faraway countries and was dreaming about adventures and expeditions. Being a student he started training in mountaineering and skiing. At that time a book of Vladimir Sanin "A beginner in Antarctica" inspired him so much that he set a lifetime goal to visit Antarctica. Following his goal Victor got a job of a geophysicist at the Institute of Terrestrial Magnetism, Ionosphere and Radio Waves Propagation. His dream came true in 1981 – he wintered over at the Soviet Antarctic Station Novolazarevskaya as a scientist. After that he was offered a job at the Arctic Antarctic Research Institute. Polar life started. Victor led geophysical Expeditions to the Arctic islands and archipelagos and wintered on the drifting ice floor in the Arctic Ocean at a scientific station NP-26. New wintering in Antarctica took place during 1989-90. This time it was at the Pole of the Cold – Russian Station Vostok. The International dog sled expedition Trans-Antarctica (to cross the Antarctic Continent from the Peninsular to Mirnyy Station via the South Pole and Vostok Station) had been carried out during this season and Victor was involved in the logistical support from the Soviet side. In 1992 Victor was a guide of the first ever tourist expedition to the Geographic North Pole (with helicopters from the Russian Arctic). After that Victor used to lead 20 ski (last degree) trips to the North Pole. On millennium Victor was a guide in the Antarctic ski Expedition from Hercules Inlet to the South Pole. Between 2006-2012 Victor was busy with logistical support of private and tourist expeditions to Antarctica from Cape Town, South Africa. He used to fly to the South Pole with tourist groups himself, developed new ski and all terrain vehicle routes on the Continent. His deep knowledge and experience in the extreme expeditions allowed him to realize many other projects on all Continents of the Planet. Victor, fascinated by travel and Polar Regions, always takes video camera with him and makes movies. He is a member of the Explorer's Club (USA), Russian Academy of Tourism, Russian Geographical Society and a member of the Consulting Committee of the World Encyclopedia of Travel.
Peter von Sassen
Historian
A familiar face to our German passengers, Peter is an on-air personality at NDR Fernsehen (North German television) and a host of the news program Hallo Neidersachsen. Peter spends a great deal of time on the other side of the camera as well as a noted editor, filmmaker, and documentarian. Peter has a wide range of interests including polar explorer Ernest Shackleton, Swedish author Astrid Lindgren, red wine, cooking, cooking with red wine, and capturing adventures on camera at the ends of the earth. Among other extreme latitude exploits, Peter was a member of the 2008 Ultima Thule expedition to Greenland that discovered one of the most northerly points of land on the planet. Peter enjoys contributing to polar expedition cruises by sharing his multi-media presentations and great admiration for the polar explorers of old.
Jamie Watts
Biologist
Since earning his degree in biology in 1994, Jamie has become an accomplished scientist, educator, SCUBA diver, underwater photographer, writer, illustrator, and polar traveler. Whether contributing to magazines, leading courses in marine biology, studying the history of exploration, or doing field research on anything from the huge colossal squid to the tiny Antarctic copepod, Jamie demonstrates a continuing passion for marine life and the global ecological "big picture". After living and working on South Georgia for two years as a fisheries scientist for the British Antarctic Survey, Jamie began his Antarctic and High Arctic expedition voyages. Since 2007, Jamie has logged nearly 180,000 nautical miles at sea as an educator and expedition leader on over 90 trips from the North Pole to Antarctic Peninsula. We welcome Jamie as a tirelessly enthusiastic addition to the team. When at home in the U.K., Jamie devotes his time to his son Alex, an aspiring writer.
Dmitry Kiselev
Historian
Born in remote Kamchatka, Dmitry studied Chinese language and Chinese culture in the Far Eastern State University (FESU) in Vladivostok. Professional translator and orientalist, he started to travel in school years and is still looking to expand the geography of his trips. Dmitry's travel credo is to get closer to every new country, using the cheapest local transport or hitchhiking. He threw down many shoes on backpacker's paths from Madrid to Saigon and from Amsterdam to Zanzibar. Known as travel-writer in Russia, Dmitry published several guidebooks and took part in the "Lonely Planet in Russian" project. He has ship-modeling and diving among his hobbies. In 2011 Dmitry joined Poseidon team to explore North Pole and to dive (literally and mentally) in Arctic waters. On board of our ship he found a use for his long-time interest in history of shipbuilding and navigation. Now Dmitry is very much looking forward Antarctica adventures!
Luis Turi
Zodiac Driver
Born in the Patagonian province of Neuquén, Luis began climbing the nearby Andean mountains when he was 19. He then studied tourism and trained as a professional guide at Universidad Nacional del Comahue and Universidad Nacional de la Patagonia San Juan Bosco. Although he travels to lakes and mountains around South America, Antarctica, and Europe, Luis spends most of his time and energy in his native Patagonia. Here he is the director of Compañía de Guías de Patagonia as well as one of their busiest guides doing what he loves best, paddling, hiking, and climbing in the beautiful south.
Rickard Berg
Zodiac Logistics
Rickard was born and raised in the archipelago of Stockholm and has always had a close proximity to the sea and loved being out on the water. His polar career began after having completed a ships officer exam at the Maritime Academy of Kalmar and an education as a Wilderness guide with the Swedish Tourist Association. Rickard went to Svalbard and learned to drive dogsleds and worked 4 winter seasons as a dog musher and Ice cave guide. Also, he worked 2 seasons as an instructor for the British Army in their winter adventure training in Canada. Rickards passion for tough adventures also led him to work as a kayak guide for long expeditions in Greenland´s northwest coast. For the last 3 years, Rickard has been working as zodiac driver in Antarctica and South Georgia.
What weather conditions can I expect?
Weather conditions are generally mild, with temperatures near freezing point. However, the continuous sunlight of 18 - 24 hour days adjusts your thermal temperature to the cold air. Passengers have been known to safely experience 't-shirt' conditions. At the same time, you may encounter fog, white-outs, and other adverse weather conditions
What weather conditions can I expect?
Weather conditions are generally mild, with temperatures near freezing point. However, the continuous sunlight of 18 - 24 hour days adjusts your thermal temperature to the cold air. Passengers have been known to safely experience 't-shirt' conditions. At the same time, you may encounter fog, white-outs, and other adverse weather conditions.
Will I be seasick?
Antarctica - Everyone reacts differently to the occasional, rough water of the Drake Passage. Passengers should consult their personal physician prior to travel and carry the recommended preventative medications at all times. That said, not all Drake Passage crossings are tumultuous.
The Arctic – While we are navigating between the Arctic islands we may get into rough seas. But once sheltered by islands in icebound waters, you won't feel any ocean swell or heavy seas.
I travel alone. Can I avoid single supplement?
Solo travelers discover that every voyage welcomes passengers observing Polar Regions as a personal experience. Solo travelers who want to have a cabin to themselves pay a single supplement. Others must apply to our Request-Share program.
The Request-Share program matches solo travelers of the same gender who are willing to share a cabin space. Both guests save money by not paying the single supplement fee. Should we be unable to find a cabin-mate for a Request-Share traveler, the single supplement is waived.
What are the major expenses not included in programme rates?
Air flights to the starting/finishing points of our cruises are not included. We do arrange flights for travelers seeking comprehensive planning.
All passengers must have comprehensive travel insurance coverage with a minimum EURO 100,000 (North Pole) and $150,000 (Antarctica) emergency medical coverage. The insurance IS included in the North Pole travel package and is NOT included in the Antarctic travel package
Some passengers need to purchase additional outdoor clothing in advance of the trip. This is an essential part of the planning process. We include the official Poseidon Expeditions parka in the cost of your expedition (please check at the time of booking) and provide water-proof boots as needed. Please be sure to review the packing list provided to you by our staff and adhere to the guidelines.
If you are pleased with the crew's service, gratuities / 'tips' can be made in cash or charged to your on-board account and are ALWAYS at your discretion. We recommend that you budget 12 USD per person, per day on Antarctic cruises and 22 EURO per person, per day on North Pole. Gratuities are collected anonymously AT THE END of each voyage and are distributed among staff and crew at that time.
May I extend my stay in the embarkation/disembarkation city?
Yes. We offer a variety of travel packages designed to maximize the potential of your travel time.
When is disembarkation?
Leaving the ship requires certain formalities; such as a Customs Inspection. We generally begin disembarkation after breakfast on the final day. This is followed by a group shuttle to the nearest airport.
We strongly recommend that homeward bound flights be booked for departure AFTER 12:00 (pm) (noon) on the final day. We cannot guarantee your arrival to the airport until the afternoon.
All North Pole travel packages include a post-cruise, airline ticket to Helsinki along with one night hotel accommodations in Helsinki.
Will I have opportunities to explore ashore during polar expedition cruises?
Yes, of course. Each ship is equipped with motor powered and paddled, inflatable landing crafts known as 'Zodiacs'. These easy to navigate boats are used for ocean level cruising and landings. From there, you will hike tundra and ice fields.
We fully understand the popularity of shore activities and provide them as frequently as possible. Of course, seasons and weather may determine where you go ashore and how often. Please work with our sales staff to ensure your satisfaction. We strive to create an experience that best suits your lifestyle and needs.
Is there a doctor on the ship?
Our Expedition Team always includes a doctor who is responsible for the health of our passengers and Expedition Team. Also, each ship has a clinic area equipped to handle foreseeable emergencies.
Can I get medications on the ship?
It is extremely important that you bring any prescribed medicines with you. While we do carry emergency supplies of common medications, we cannot access the kinds of information necessary to guarantee a surplus of the necessary medicine for all travelers on a given cruise.
Please plan for the entirety of your travel time – not just your time on the cruise.
Do I need to pack formal clothing?
There is NO requirement of formal dress at any point. If you choose, there will be welcome and farewell cocktail parties and daily dinners well suited to a dress shirt and casual slacks, or the equivalent for women.
What is there to do on the ship?
Our voyages include education supplements to prepare you for shore landings and scientific discovery. After that, other than meals, informal activities range from bird and whale watching to movies and snacks in the evening. There are board games available in the lounge area and a bar for conversation and spirits.
The open-air decks make excellent platforms for photography and wildlife observing.
What is the average age of the people traveling on your ships?
The ages of our travelers range from 20 to 80, with the majority between 45 and 65 years.
Should I be physically fit to travel to polar regions?
You should strongly consider not joining the expedition if you are suffering from any life threatening condition or require walking assistance. The polar regions are a remote area with zero access to full-scale medical facilities and daily routines include steep gangways and terrain mobility. Note that we do provide a range of activities when ashore.
How much luggage can I bring?
It's always best to pack 'for' the segment of your flight itinerary that has the smallest baggage allowance requirement - baggage allowances on international flights are often larger than domestic flights. Also, be sure to check with your airline to confirm what you are allowed to carry.
The ship does have laundry facilities, so you do not need to pack clothes for every day. Our advice is to be reasonable.
Do you have any advice on ensuring a best possible encounter with penguins?
Yes, there is good advice for making sure you have a perfect penguin encounter.
Penguins are curious. Pick a spot no closer than 5 meters from the penguins. Sit or kneel - making yourself smaller and less threatening. Wait quietly, with your camera ready - they will be much more open to coming over to you than vice versa. Otherwise, you would scare them away.