HIGHLIGHTS
167 Days

107 Ports

10 Routes

30 Countries

Exotic Locations

Informative on-board Lectures

Fascinating Guided Tours

Beautifully appointed Rooms & Suites

Spacious Decks and Public Areas with Panaromic Views

Varied Dining options for different tastes

Exclusive Cultural Events throughout the journey
DATES / RATES
Rates are listed per person in USD
Sailing Dates
Vista Suite
Veranda Suite
Deluxe Veranda
Medallion Suite
Silver Suite
Royal Suite
Grand Suite
Owners Suite

JAN 30 to JUL 16, 2021

99,000

133,000

159,000

204,000

244,000

290,000

320,000

404,000
Rates are listed per person in USD
Sailing Dates
Vista Suite
Silver Suite
Owners Suite

JAN 30 to JUL 16, 2021

99,000

244,000

404,000
ITINERARY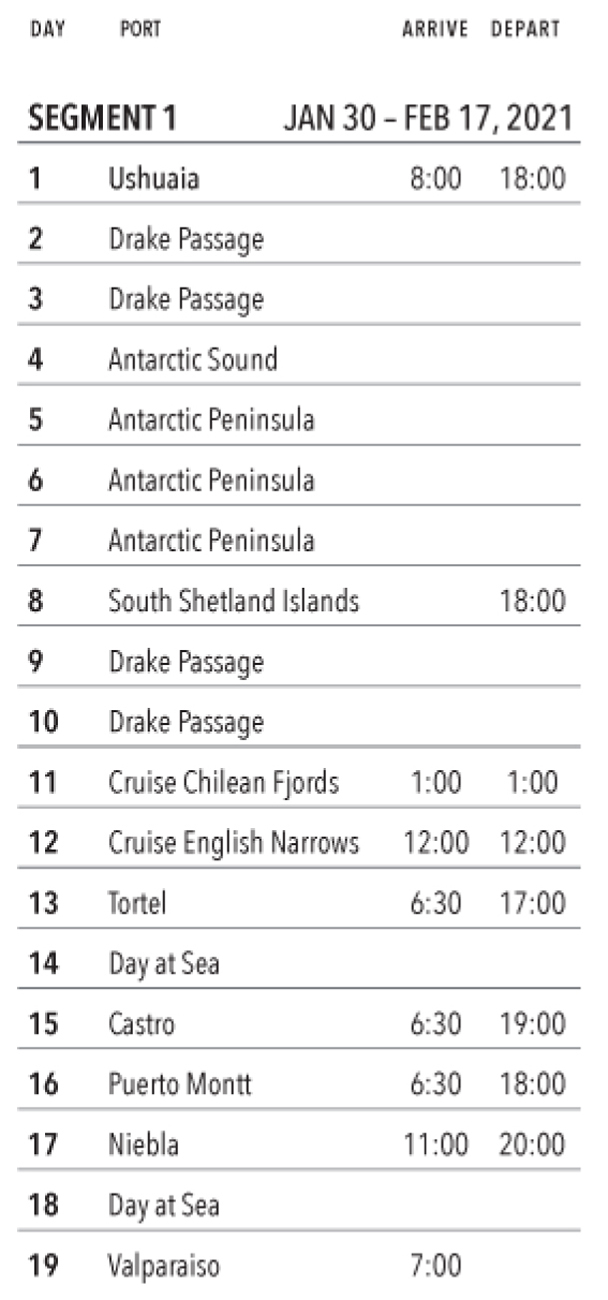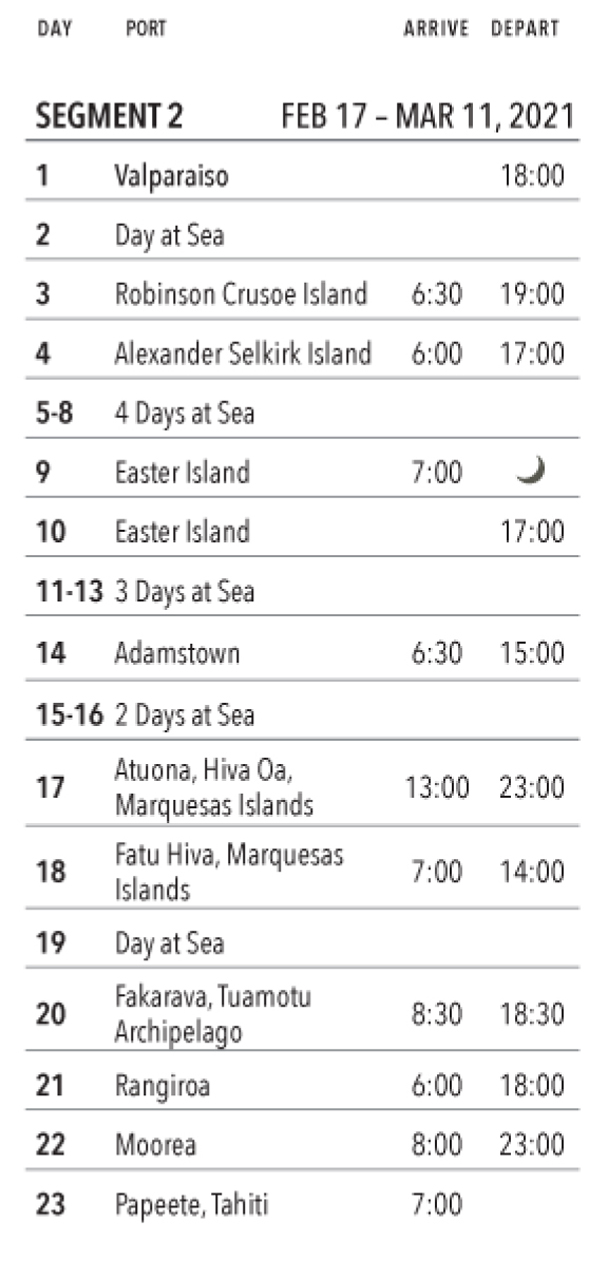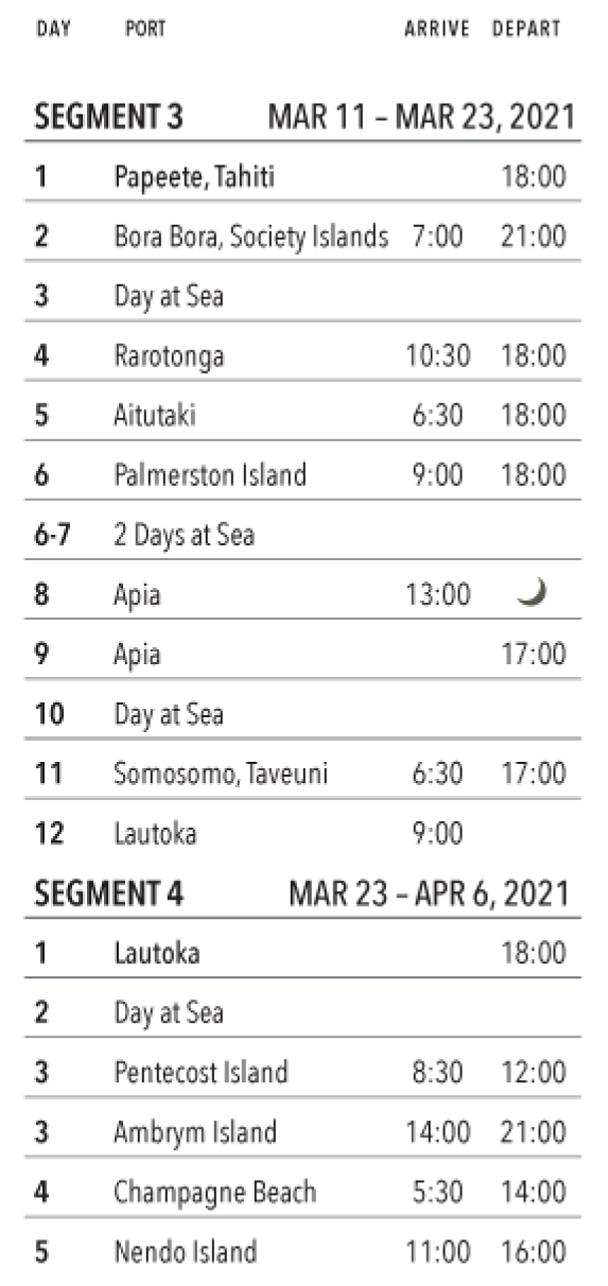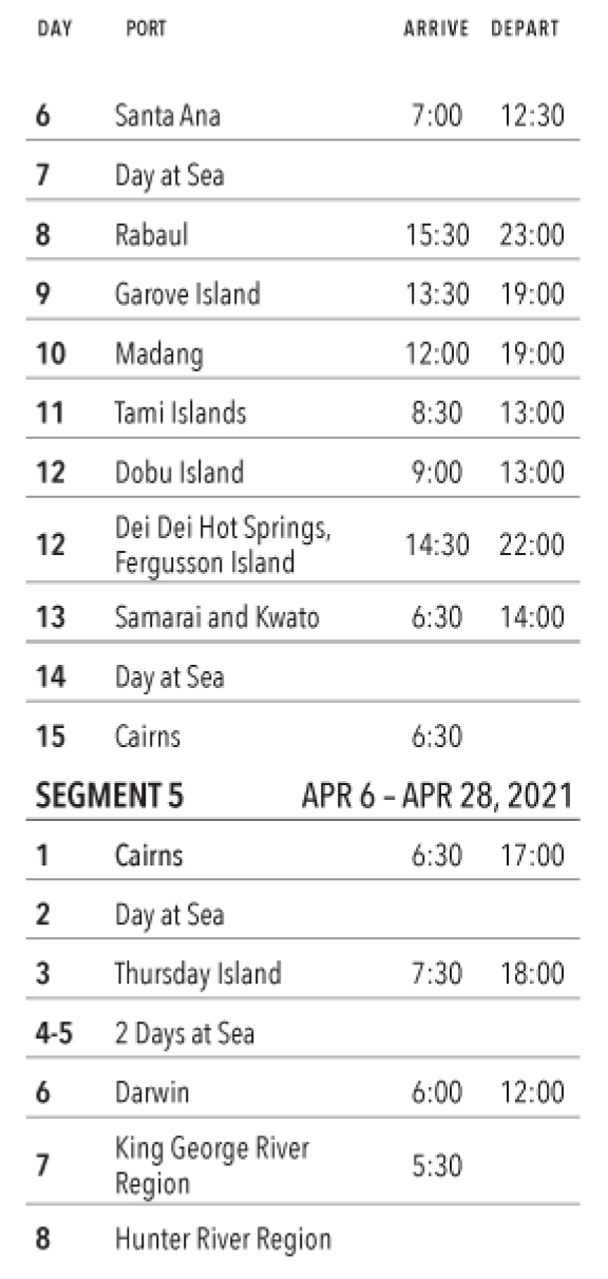 Silver Cloud

(Luxury Expedition, 254-guests)
The Silver Cloud expedition ship with max 254-guests has 18 Zodiacs, four superlative restaurants and a pole to pole expedition itinerary. The Silver Cloud is an ultra luxury expedition ship with private butler service in every suite. Her five dining options will tantalise your taste buds and as 80% of her suites include a veranda, watching a breaching whale or a few cavorting penguins has never been so personal. Broad sweeping decks with multiple open spaces and a swimming pool complete what is surely the most distinctive expedition ship sailing today.
WHAT'S INCLUDED
Luxurious benefits that ensure you travel in comfort and that add an array of enriching cultural events make this voyage-of-a-lifetime an even more extraordinary experience.
Business Class Air*

Charter Flight from Santiago de Ushuaia

Bon Voyage reception and Overnight accommodation (pre-voyage)

Private transfer from airport to hotel, group transfer from hotel to pier and private transfer post cruise from pier to airport

USD 2,000 Onboard Spending Credit (per guest)

Exclusive World Cruise Events

All Excursions

Special Commemorative Expedition Gear Gifts

Laundry Service

Unlimited Wi-Fi**

Medical Services
* Available from selected gateways/countries. Non-use air credit available for other countries
** Limited internet access in Antarctica
OPTIONAL ACTIVITIES
Private Dinner At Robert Louis Stevenson's House - Apia, 19 March 2021
Explore the fascinating life of Robert Louis Stevenson and why he is revered by Samoans to this day during a private dinner at his restored home, now the Robert Louis Stevenson Museum (RLSM). Samoa's premier historical venue, the RLSM is where R.L.S., who authored classic books such as Treasure Island, Kidnapped, and The Strange Case of Dr. Jekyll and Mr. Hyde, spent the happiest period of his life. During an exclusive outing to this lovely, restored home, discover the mutual, enduring love and admiration shared between the Samoans and their most famous ex-patriot. Your private dinner features locally-inspired cuisine, and is highlighted by traditional entertainment such as fire-dancing.
An Evening At The China Club - Singapore, 27 April 2021
Enjoy exclusive access and an unforgettable evening in the Central Business District at the world-renowned China Club Singapore. This elegant, members-only club is perched atop the 52nd floor of Singapore's premier commercial tower, the Capital Tower. The China Club is surrounded by approximately 52.5-foot-tall (about 16-metre-tall) glass offering spectacular panoramic views across Singapore, and, on a clear day, Malaysia and Indonesia in the distance. Based upon strong Chinese tradition, the interior décor is a juxtaposition of new and old that heightens the dramatic atmosphere of the club. Traditional Chinese food ranging from home-cooking to haute cuisine, superb, personalized service and a few mythological surprises round out your evening at the dazzling China Club in grand style.
Dinner In London's Most Stunning Landmark - 23 June, 2021
It is London's defining landmark, literally towering over one of the most iconic skylines in the world. Experience The Big Smoke from an impressive perspective and enjoy dinner in London's most famous bridge. At 132-feet above the Thames, enjoy a sumptuous meal amid breathtaking panoramic views from the high-level walkways and their spectacular glass floors. With Docklands, Canary Wharf and Greenwich to the east, and the Shard, Tower of London, St. Paul's Cathedral and the city of London to the west, watch London transform as the sun sets over the capital and the bright lights reflect into the river beneath.
Borða Drekka Og Vera Glaður!* Akureyri - 06 July, 2021
Travel back thousands of years to a time when exploring was a pastime, raids were commonplace, and enjoying glorious food and drink was an occupation! Discover the traditions, flavours and Viking past of Iceland during this memorable evening excursion to Kjarnaskogur Forest. Indulge your senses with the spectacular natural splendour of Iceland's most visited forest during the evening and enjoy a feast fit for the Gods themselves! Snuggle up in rugs and skins and celebrate the unchartered World tour with a delicious outdoor dinner complete with Vikings in authentic costumes, flickering lights from oil lamps, and the smell of smoke from the campfire. Located just a short drive from Akureyri, do not miss this opportunity to enjoy the long summer evening in one of Iceland's loveliest natural settings.
*Or Eat, Drink, and be Merry in Icelandic